Trump rollback of Obama's transgender bathroom law: Here's what we know so far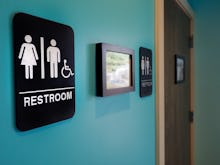 President Donald Trump's administration has plans to issue changes to Barack Obama's protections for transgender students, which mandated that public schools allow students to use the bathrooms and locker rooms corresponding to their gender identities.
The Washington Post obtained a draft of a letter Trump will reportedly send to schools across the country, stating that the administration will not be upholding Obama's guidance on the trans bathrooms issue. Trump is expected to release a final version of the letter on Wednesday. 
The first draft, however, emphasizes that schools are still responsible for creating a safe environment for trans students — though apparently that doesn't include allowing them to use a bathroom in which they feel safe.
The rollback of Obama's policy, the White House maintains, "does not diminish the protections from bullying and harassment that are available to all students. Schools must ensure that transgender students, like all students, are able to learn in a safe environment."
The letter also suggests that school officials as well as parents and students "struggled to understand" Obama's policy, which the Trump administration says resulted in "significant litigation."
Meanwhile, in a press briefing on Tuesday, White House press secretary Sean Spicer framed Trump's decision to rollback Obama's guidance on trans bathroom policies as a battle between states and the federal government, echoing Trump's concerns in May that North Carolina's House Bill 2 was a "perfect example" of the federal government infringing on states' rights. 
"I think that all you have to do is look at what the president's view has been for a long time, that this is not something that the federal government should be involved in, this is a states' rights issue," Spicer said.
Trump, of course, also once spoke out against the legislation, saying it was causing the state too many problems, many of which were financial.
"There have been very few complaints the way it is," Trump said in an April interview with Fox News host Sean Hannity. "People go, they use the bathroom that they feel is appropriate. There has been so little trouble, and the problem with what happened in North Carolina is the strife and the economic punishment that they're taking."
But as Trump prepares to hand down a new guidance on transgender bathrooms, he'll likely face the same backlash he thought it best for North Carolina to avoid.
 "When this guidance was issued last year, it provided our families — and other families like our own across the country — with the knowledge and security that our government was determined to protect our children from bullying and discrimination," reads a letter roughly 800 parents of trans children sent to the Trump administration on Feb. 14. "Please do not take that away from us."