What you need to know about homeland security deportation memos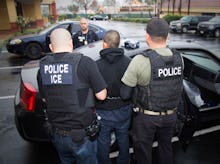 Here are the takeaways from new deportation rules announced Tuesday by the Department of Homeland Security: Many more immigrants can be deported; they may be taken to detention centers; and Mexico could be the most impacted by a rise in deportations. The policies take a broader view on immigration enforcement and could lead to a sharp uptick in detentions or deportations. 
While President Donald Trump's latest immigration crackdown says people who entered the United States as children will remain protected under the expanded deportation policy, there have already been cases of detention of immigrants whom Trump said would not be targeted.
The two memos at the center of the conversation detail how the DHS will execute Trump's executive orders on immigration and border security. One memo signed by Secretary John Kelly says it will prioritize deporting "removable aliens" who may have committed a crime — even if they haven't been convicted. It gives department officials discretion to deport others who have "abused" any public benefit program or whom the officials deem a threat to public safety or national security, generally encouraging removing anyone who is in the United States illegally. The memo also says DHS will hire 10,000 additional immigration officers to assist in deportation efforts.
A second memo encourages more stringent detention of people who have entered, or are trying to enter, the country illegally. Despite a campaign promise from Trump to not use detention centers, DHS plans to do just that — including building more facilities to house people whose immigration status is pending. Those deported from the United States after crossing a land border will be returned to "the territory from which they arrived" rather than their nation of origin. In many cases, Mexico will be expected to receive deported immigrants from the United States — even if those immigrants are not Mexican citizens.
Meanwhile, a new executive order on immigration is imminent. CNN reported that this time around, the White House counsel had a meaningful role in drafting the language to ensure it complies with federal law. Trump's first immigration order, known as the "Muslim ban" because it targeted people from seven majority-Muslim countries, was struck down by two federal courts; the administration declined to appeal those decisions to the Supreme Court. The new order is expected to maintain a hold on travel and immigration from those seven nations, but it will not target people with existing green cards or visas from those countries.
This is Mic's daily read on Donald Trump's America — and how it affects you. Welcome to the political newsletter that thinks you should read this while listening to the Foo Fighters. Want to receive this as a daily email in your inbox? Subscribe here. 
Highlights
• Today: What the latest deportation news means, along with an imminent new executive order on immigration.
•  More: Two must-read Mic exclusives. 
•  Even more: Three generals hold America's top three national security positions for the first time.
•  Yes, more: Republican congressmen and senators have faced heated town halls all week. But are they the same as the tea party of 2010?
•  Another thing: You're spending a lot of money to keep Trump's family safe. And the president rebuked anti-Semitism, though not strongly enough for some. 
•  Trump's agenda today: Holding meetings to discuss the federal budget. Meeting with Secretary of State Rex Tillerson.
Mic exclusives
Were you wondering how the video of Milo Yiannopoulos defending pedophilia was leaked? Wonder no more. Mic's Emily Singer connected with the Reagan Battalion, a group of political activists working anonymously to rid the Republican party of views they consider antithetical to conservatism. Despite Yiannopoulos' assertions, Mic found the battalion has no connection to former independent presidential candidate Evan McMullin or other never-Trump conservatives. 
Our full interview with former Attorney General Eric Holder is also now live. Mic's Aaron Morrison spoke with Holder about Trump, Russia, race, gerrymandering and more last week in Atlanta. Holder is leading Democratic efforts to fight Trump policies on the state level and to fairly redraw congressional districts when it comes time in 2021.
Generals in command
Trump's White House will be the first to have three senior veterans in the top national security positions. James Mattis, John Kelly and H.R. McMaster all led troops in Iraq. The generals have their differences, but all are recognized for successes on the battlefield. Now, the secretaries of defense and homeland security, along with the national security adviser, must advise a president who has repeatedly disparaged and sparred with the military infrastructure where these generals made their names.
A lifetime of deference to military leadership does not mean these generals will not speak up. Mattis and Kelly both recently attracted headlines for expressing their differences with a stance taken by Trump, and McMaster is recognized for his understanding of how allowing politics to supersede military strategy contributed to failure in Vietnam. The coming weeks will determine whether Trump's comments or the hands of these three former generals are more at play in controlling America's national security apparatus.
The impact of town halls
Republicans may be having deja vu. During the rollout of the Affordable Care Act in 2010, voters swarmed town hall meetings of Democratic congressmen and senators who supported Barack Obama's health care law. That anti-establishment fervor led to the 2010 election resulting in Republicans gaining 63 seats in the House of Representatives and making good on their slogan to "fire Nancy Pelosi." 
This time around, it may be Republicans who are in trouble. Town halls across the country have drawn packed crowds to vent frustration about a planned repeal of the Affordable Care Act, alleged but unsubstantiated Trump ties to Russia and more. Some Republican elected officials have avoided these gatherings altogether. Others have embraced them, coming ready to endure marathon sessions of criticism from constituents. Tuesday brought more protests and pointed questions as Republicans spent the week in their districts.
The big question is what the lasting impact of this opposition will be. Across America, Republicans have gerrymandered districts to make their control of the House a near certainty. In midterm elections, Republican voters tend to turn out in higher numbers than Democrats. That vote is 20 months away. Because the Affordable Care Act passed several months before the 2010 midterm elections, the fall vote was a referendum on a health care law many Americans viewed negatively. Now, the country is split on support of the law. And as some Democrats dismissed tea party anger in 2010, Republicans may be remiss to do the same of progressives now. We will continue to ask between now and November 2018: Can Democrats convert midterm populism into votes the way Republicans did?
News and insight you cannot miss:
•  A federal judge on Tuesday blocked Texas from withholding Medicaid funds from Planned Parenthood clinics. The judge said the state does not have sufficient evidence the health care provider traffics in human body parts. (Mic)
•  The White House may be about to reverse an Obama rule that said schools must allow transgender students to use bathrooms that match their gender identity. (NBC News)
•  Ad revenue for cable news is skyrocketing as attention settles on the president's penchant for MSNBC, Fox News and CNN in the a.m. (Mic)
•  Mistakes made by the Veterans Administration could lead to the trashing of 500,000 applications for health care. (Mic)
•  The latest from Bernie Sanders: Trump is a "pathological liar." (Mic)
•  A Maryland appeals court has said the second amendment does not protect a right to own military-style assault firearms. (Slate)