Bill Maher defended pedophilia in 1998 and 2007. Now he's taking credit for Milo's downfall.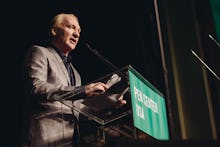 In a 2007 interview with Playboy magazine, talk show host and self-styled provocateur Bill Maher defended the pedophilic relationship between Seattle-area schoolteacher Mary Kay Letourneau and her 12-year-old male student, Vili Fualaau.
"I'm the only guy I've ever heard who defends Mary Kay Letourneau," Maher told the magazine. 
When pressed on whether he thinks teachers should be able to have sex with their underage students and not go to jail, Maher replied that it should depend on whether the student is a boy or a girl.
"If a 28-year-old male teacher is screwing a 13-year-old girl, that's a crime," he said. "But with Debra Lafave [another teacher who had sex with a student] screwing her 14-year-old boy student, the crime is that we didn't get it on videotape. Was he being taken advantage of? I wish I had been taken advantage of like that. What a memory she gave him!"
Maher may have intended his comments as tongue-in-cheek — he's also a stand-up comedian — but the 2007 interview wasn't the only time he'd made such a statement. In a March 1998 episode of his ABC talk show, Politically Incorrect, Maher seemed similarly supportive of Letourneau raping Fualaau.
"[Letourneau] is in jail because she is in love," he said. "That's how I view it ... Basically, they're having a family and they're keeping the mother in jail because she won't conform to what society feels should be the perfect American family."
Conservative activist Celeste Greig, a guest on Maher's show during that episode, retorted that Letourneau was in fact raping Fualaau. Maher insisted that it wasn't rape.
"Raped?" he said. "Come on. She forced? How do you know? ... How can a woman rape a man?"
Here's the full episode:
Maher's comments condoning sex acts with children are especially ironic in light of recent news. The TV host took credit this week for the public downfall of Milo Yiannopoulos, the internet troll who has found a large conservative audience in the white nationalist movement known as the "alt-right" for his sexist, Islamophobic, anti-Semitic and transphobic views under the guise of being a public intellectual and free speech advocate. 
Maher hosted Yiannopoulos on his HBO talk show, Real Time with Bill Maher, on Friday.
"[We] had Milo on, despite the fact that many people said, 'Oh, how dare you give a platform to this man,'" Maher told the New York Times on Tuesday. "What I think people saw was an emotionally needy Ann Coulter wannabe trying to make a buck off of the left's propensity for outrage. And by the end of the weekend, by dinnertime Monday, he's dropped as a speaker at CPAC. Then he's dropped by Breitbart, and his book deal falls through. As I say, sunlight is the best disinfectant. You're welcome."
Indeed, Yiannopoulos lost his book deal with Simon & Schuster, resigned from his role as a senior editor at Breitbart and was disinvited to a scheduled speaking engagement at the Conservative Political Action Conference after video footage resurfaced Sunday of him defending sex between adult men and boys as young as 13.
"People are messy and complex and actually, in the homosexual world particularly, some of those relationships between younger boys and older men, those coming-of-age relationships, the relationships in which those older men have helped those young boys to discover who they are and give them security and safety and provide them with love and a reliable, a rock, where they can't speak to their parents," Yiannopoulos said during a 2016 appearance on the Drunken Peasants podcast.
But considering that Maher has made similar arguments before, it's a stretch to claim that Milo's downfall — at the hands of Maher, no less — is a moral referendum on how the public punishes reprehensible views once they are given a big enough audience. After all, Bill Maher still has a TV show. And in light of his 1998 and 2007 comments, plus his well-documented history of anti-Muslim remarks, it's worth asking why Maher hasn't been given the Milo treatment as well.