Mexican man reportedly dies from suicide after being deported from US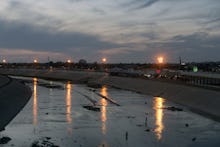 Faced with the prospect of returning to Mexico, a Mexican man reportedly died from suicide after being deported from the United States.
The BBC reported Wednesday that 45-year-old Guadalupe Olivas Valencia jumped from a bridge adjacent El Chaparral, the primary port of entry between San Diego, California, and Tijuana in Mexico, half an hour after the U.S. deported him for a third time. 
According to the Telegraph, Valencia's friend said the Sinaloa native was nervous to return to his former home because "he knew nobody." 
Sinaloa is an infamously violent and turbulent state; it served as the hideout of infamous drug kingpin El Chapo prior to his high-profile arrest in January 2016. Many of those who leave Mexico cite crime and illegal drugs as reasons for the move. 
Valencia's motives for emigrating were not explicitly stated. 
Valencia died at a nearby hospital on Tuesday morning from injuries sustained in the fall. According to the Telegraph, a plastic bag issued by the Immigration and Customs Enforcement Agency was found next to his body, filled with his belongings.
The Department of Homeland Security on Tuesday released new documents indicating that the U.S. government will expand the number of undocumented immigrants up for deportation, that it will hire 10,000 new ICE agents and open more detention facilities. Under President Donald Trump, who campaigned on an anti-immigration platform, the government has launched waves of ICE raids that reflect newly narrowed protections for undocumented individuals living in and hoping to reach the U.S.