Gucci's AW17 fashion show in Milan brings mullets to the runway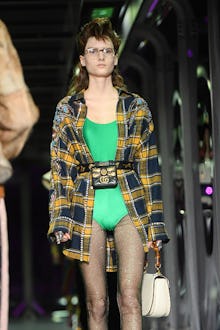 Joe Dirt must be so thrilled. 
The hairdo that your crush definitely had if you went to elementary school in America between 1986 and 1993 just made its way onto a high fashion runway. 
At the Gucci show at Milan Fashion Week on Wednesday, several different models walked in designer Alessandro Michele's inventive and eccentric designs while rocking the hairdo that Miley Cyrus' father shot into popularity: the mullet. 
Oh, yes. It's back, babies. 
The business-in-the-front, party-in-the-back hairstyle is fashion now. 
God help us all. 
And don't think this look is only for the guys. Female models also rocked the mullet on the Gucci runway. 
So the mullet is gender-neutral. At least that's progressive. 
Other highlights of the show included men in heels, lots of androgyny and models with their faces totally covered in sparkly fabric, as if they were fancy thieves. 
Much like many of the shows at New York Fashion Week, this show in Milan could actually have a quiet political message, with at least one model walking in a "Common sense is not that common" T-shirt. 
Other than that, the aesthetics of the clothing overall were a mix of florals and metallics and everything that is good in fashion in general. 
Additionally, if we don't see this dress on the red carpet at the Oscars on Sunday, we will scream: 
Stylists, do take note.