Angelina Jolie's children snack on insects, because of course they do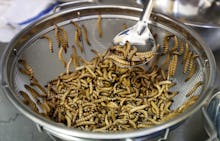 Some kids make their parents cut the crusts off their sandwiches. Others refuse to eat any fruit with skin on it.
Celebrity kids, on the other hand, are an entirely different species than the average American child. So, it should come as no surprise that Angelina Jolie's six kids aren't snacking on Oreos and chocolate milk like supermarket-fed plebeians, but rather maintaining a snack repertoire of crickets, spiders and scorpions galore. 
"They can eat a bag of crickets like a bag of chips," Jolie said Tuesday during her appearance on Good Morning America, where she was promoting her new Netflix film First They Killed My Father. Based on Cambodian activist Loung Ung's memoir of the same name, Jolie's passion project involved shooting on location with her kids in Cambodia — from where she adopted her oldest son, now 15-year-old Maddox, in 2002. 
"They're used to eating scorpions." —Angelina Jolie on her children
On camera from Cambodia, Jolie told Good Morning America's George Stephanopoulos that she thinks her kids "like the adventure" of the crew while on set, but Stephanopoulos zeroed in on one important (and delicious?) fact of Cambodian life: scorpion eating. 
"How did they feel about eating scorpions?" Stephanopolous nonchalantly asked the megastar while BBC News footage of Jolie helping her children consume insects played.
"They're used to eating scorpions," Jolie replied. "Well, especially Shiloh. Shiloh loves a tarantula, loves a bug." Here's a kind reminder that 10-year-old Shiloh Jolie-Pitt has grown up in extreme wealth — her baby pictures alone fetched a rumored $4 million from People — and she's opted into eating bugs. 
Shiloh isn't the only one of her siblings to have an adoration of insects, either. 
"They all love ... they can eat a bag of crickets like a bag of chips," Jolie said of the Cambodian scorpion-eating. "So, they're used to it."
And if you were thinking Jolie employs some type of wizardly chef to make even insects look appealing to kids, there's no evidence to suggest her fleet of children is getting anything better than bugs cooked by mom herself.
"I'm learning to cook them better, with a little more flair, a little more seasoning," Jolie added. Flair? Seasoning? Someone give this woman a Food Network block, STAT.
In the BBC News clip, Jolie rivals the Barefoot Contessa with her step-by-step tarantula tutorial.
"See the hard part where you have the teeth? Take the fangs out," Jolie said during the clip. "I think it's always been a part of the diet, the bugs, but then I think there is a truth to the survival during the war, of course. When people were being starved, they were able to survive on things like this, and they did." 
Those not quite ready to bite into tarantula flesh may want to start their bug-eating journeys with crickets. 
"You start with the crickets," Jolie advised. "Crickets and a beer, and then you kind of move up to the tarantulas."
Just when things were getting juicy (or, erm, crunchy) on Good Morning America, Stephanopoulos directed the conversation away from snacking and toward Jolie's pending divorce from Brad Pitt and the "health" of the Jolie-Pitt family.
Crickets are packed with lean protein, so it's probably safe to assume the health of these cricket-hungry children is just fine. Perhaps the Pitt-Jolie kids will celebrate their next birthdays with cricket-covered cakes, Nicolas Cage-style.