How many immigrants did Obama deport? Here's how his administration handled immigration.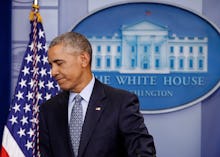 On Tuesday, President Donald Trump's administration released a series of draconian new policies designed to crack down on undocumented immigrants living in the United States. Two memos from the Department of Homeland Security suggest that there could be an increase in mass deportations, with undocumented individuals who may have committed crimes being chief targets. The memos also outlined plans to build more detention centers for undocumented people who are going through deportation proceedings.
Despite the confusion and backlash caused by Trump's original executive order on immigration, he remains undeterred in keeping his campaign promise to reduce the number of undocumented immigrants living in the U.S. — something for which he repeatedly attacked former President Barack Obama.
Trump argues that he "inherited a mess" from the past administration, even though Trump was not specific:
So how did Obama handle immigration while he was president?
Obama's views on immigration
At the onset of his administration, Obama took a drastic approach on immigrants. According to a 2016 report by NPR, deportations increased during Obama's first four years — 2012 being the fiscal year that saw the most deportations during that time, with a over 400,000 immigrants sent back to their countries of origin. 
During his second term, Obama's administration ordered fewer deportations. In fiscal year 2015, the number dropped to 235,413, and arrests along the U.S./Mexico border also fell.  
Still, Obama deported more than 2.5 million people between 2009 and 2015. Conversely, George W. Bush deported just more than 2 million during his entire eight years in office, ABC News reported.
Obama's take on deportation measures earned the scorn of prominent Latino organizations such as the National Council of La Raza, whose president, Janet Murguía, called Obama "deporter-in-chief" in 2014, according to Politico. 
Although Obama enacted the Deferred Action for Childhood Arrivals Program, which paved the way for thousands of young undocumented people who were brought to the U.S. at a younger age, many believe he left a somewhat mixed legacy on immigration.
"Even though we had millions of deportations, I recognize that my life has been radically different under an Obama administration, more than I had ever imagined," Greisa Martinez, advocacy director for immigrant youth organization United We Dream, told NBC News in January.