The one trick to navigating love and money — and seeing eye-to-eye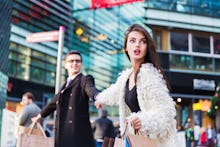 Sometimes you really have to put the "personal" back into personal finance. That's why hosts Antonia Cereijido and Chris Duffy share private details from their love lives for episode three of The Payoff — Mic's newest podcast, packed with financial news you can use, industry insights and simple explanations of how economic or business events affect your wallet.
Dishing on how money works in their romantic relationships, our hosts dive into why talking about money is so hard — and how communication is the key to setting you free. Plus, they chat with a credit counselor to find surprising ways to help up your credit score, which could make you a more attractive mate if you're single — or give your partner some peace of mind if you're not.
The Payoff also talks with comedian, author and podcaster Maeve Higgins about how money plays a role in her love life, and what it's been like to work in the United States since she immigrated to America from Ireland.
Finally, we wade into the waters of "financial infidelity" to find out why millions of Americans are keeping money secrets from their significant others.
Do you have ideas for money topics we should cover? Send us an email at payoffpod@mic.com.
Subscribe to The Payoff on iTunes, Google Play, Spotify, Stitcher, iHeart Radio or wherever you listen to podcasts. Please rate and leave a review, and stay tuned for new episodes every other Wednesday!