Jay Z will become the first rapper to enter the Songwriters Hall of Fame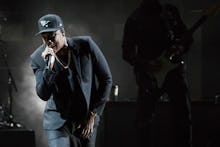 Some readers may be too young to remember, but once upon a time Jay Z was hands-down one of Brooklyn's finest MCs. Before he became a full-time businessman and a business, man, his bars were flexible and acrobatic, relating crime stories with cunning double entendres. Years into what continues to be his victory lap phase, the Songwriters Hall of Fame is finally ready to recognize his talent. 
Jay Z will be inducted into the Songwriters Hall this year, becoming the first rapper the award ceremony has ever chosen to honor. Pop powerhouse Max Martin, Kenneth "Babyface" Edmonds, Jimmy Jam and Terry Lewis, Robert Lamm, and James Pankow and Peter Cetera, professionally known as Chicago, round out the class for the Hall's 48th ceremony.
"With our 2017 roster of inductees, the Songwriters Hall of Fame moves definitively into recognizing music creators of the 21st century while continuing to honor the greats of earlier decades," co-chairs Kenneth Gamble and Leon Huff and president Linda Moran said in a statement. "The combination of contemporary sounds and timeless hits of the past is certain to make for an unforgettable evening ... We are thrilled to once more have the opportunity to preside over an event that recognizes the convergence of song craft and musical performance at the very highest level."
The organization's write-up honors Jay for his 100 million records sold, which makes him one of the best-selling musicians of all time. "Also a powerful entrepreneur across the music/entertainment, fashion and sports industries, Jay Z personifies the 'American Dream,'" the Songwriter's Hall biography reads.
Notably, Jay Z has also been one of the most outspoken proponents of hip-hop, encouraging critics and musical institutions to recognize the genre as an art form proper. He's held hip-hop shows at historic, world-renowned venues, such as Carnegie Hall. He's protested the Grammys in the past, attempting to push them to respect the genre. Elevating rap was the chief intention of his 2010 book Decoded, "to make the case that hip-hop lyrics — not just my lyrics, but those of every great  — are poetry if you look at them closely enough," as he wrote.
Now that this Pyrex ceiling has been broken, fans can likely expect a lot more rappers to see nominations and selections. Because as visible and popular as Jay Z is, he's far from the only the genius the genre has ever produced.
Mic has ongoing music coverage. Follow our main music hub here.