Future drops "Draco" video, showing the rapper recruiting a gangster 'Charlie's Angels' team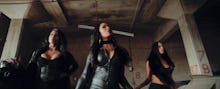 In the new visual for the DJ Spinz-produced "Draco," Future gathers his own version of Charlie's Angels, who accomplish their goals of collecting wads of cash by successfully tricking and trapping men into their schemes. Watch the full clip below.
Dressed in all-black leather, the trio are taking over the town, fully equipped with semi-automatic weapons to get the job done. Meanwhile, Future is directing their moves from behind the scenes. 
The video starts off in an arcade where a boy is playing a shooting-style video game. A girl admiring him from across the room walks closer to him to watch him play. Another boy, holding flowers — that he planned to give it to the girl — sees this unfold and realizes that he has no chance. Basically, Future tells us that "good guys" are finishing last in this video.
Then the clip fast-forwards to the adult version of the scenario, as a woman leaves her nerdy boyfriend behind when she sees Future walk out of a building. Once again, the guy getting left behind is confused and distraught, but she couldn't care less. The woman joins Future's squad and never turns back from the fast life. 
"Draco" is a song off Future's self-titled album, released on Friday. And the rapper is continuing to roll out tons of content: On Monday, he dropped his video "Super Trapper," and on Tuesday he announced that he'll be releasing his second album of the year, called HNDRXX, on Friday.
Mic has ongoing Future coverage. Please follow our main Future hub here.