'Crash Bandicoot N. Sane Trilogy' Release Date: Xbox One launch may follow PS4 release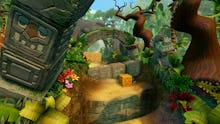 Up until now, we've just assumed that the upcoming Crash Bandicoot N. Sane Trilogy was a PlayStation 4 exclusive. After all, it's a remaster of three games that defined the original PlayStation, and it's officially been confirmed only for PS4. It seems like kind of a no-brainer. It was even announced at a Sony event.
However, a recent PlayStation tweet cast a tiny bit of doubt on that. Could Crash Bandicoot N. Sane Trilogy get a cross-platform release? Here's what we know for now.
Crash Bandicoot N. Sane Trilogy: Not a PS4 exclusive?
While the original Crash trilogy was PlayStation-exclusive and Crash himself was something of an early mascot for the PlayStation brand, the rights don't actually belong to Sony. 
The character belongs to Activision, as evidenced by the fact that he's shown up on non-PlayStation consoles for many years. 
The wording in this tweet from PlayStation Ireland suggests the upcoming remastered trilogy could eventually land elsewhere:
The "earlier post" being referenced there is a now-deleted tweet in which the game was called PS4-exclusive. The revised version says it is coming to PS4 first, which could mean something very different.
It could also mean absolutely nothing, to be fair. There's no reason to believe the game will come to other platforms until Activision says so. A major third-party publisher like Activision seems unlikely to keep a game exclusive to one platform — but you shouldn't take that as confirmation of anything. This is all speculation on our part for now.
Mic has reached out to Sony for comment and will update this article with any new information.
More gaming news and updates
For more gaming news, check out the latest from Mic. Here's a collection of cute Overwatch-inspired Valentine's Day cards, 15 photos that compare the Nintendo Switch to the Wii U and other gadgets, a beginner's guide to For Honor and a deep dive into the new trend of Nazi-punching video games.