Efi Oladele 'Overwatch' meme has fans hoping she won't die in a terrible plane crash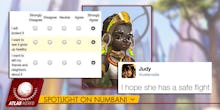 Blizzard sent the Overwatch fandom into a tizzy on Tuesday when it released a fictional interview with new character Efi Oladele — a genius 11-year-old inventor and robotics expert from Numbani.
There's still a lot we don't know about Efi, but one thing is clear: The Overwatch fandom already feels very protective of her.
Overwatch Efi Oladele: "I hope she has a safe flight"
You might be thinking, "Now, hold on. If Efi is the next Overwatch character, she doesn't need my protection, right? If she can go toe-to-toe with Reinhardt, she won't need me."
The thing is, not everyone is certain Efi will actually fight alongside other characters in the game. Some are speculating she'll create or control a giant Omnic from the sidelines instead — and one part of the fictional interview revealing her might support that theory. Efi mentions she's going to celebrate winning the Adawe Foundation's "genius grant" by going on a trip with her parents.
"My parents are taking me on a trip to celebrate," she said. "It'll be my first time flying, so I can't wait."
You can see where this meme comes in.
To most people, that simply came off as a tease that Efi might cross paths with other members of the Overwatch roster in the future, but for others, it was a much more sinister sign of things to come — namely, that Efi and her family won't have a safe trip.
Yeah. It's a dark theory. And the Overwatch fandom is decidedly not on board — pun intended. In just a short time, fans have posted all over Twitter and Tumblr in hopes of protecting Efi from harm through sheer force of will in some kind of The Secret-like scheme. Here's a quick sampling of what's been going around.
Even when posts didn't explicitly mention the possibility Efi would be a victim of some terrible accident, there's no shortage of love for this potential new hero, despite the fact we know nearly nothing about her.
When Blizzard reveals more about Efi — tragic or not — we'll keep you updated.
More Overwatch news and updates
For more on Overwatch, check out the rest of what Mic has to offer. Here is a list of our predictions for what seasonal events might appear in 2017, a look at a very funny but naughty meme on the Overwatch subreddit, an interview with the creator of an awesome new Overwatch zine, the full patch notes for Overwatch version 2.03, a full explanation of the different types of health in Overwatch, our definitive ranking of every Overwatch hero, a roundup of awesome gender-bent Overwatch cosplay and a giant Overwatch FAQ for beginners.