Oscars 2017 Predictions: 'La La Land' and other Academy Award best bets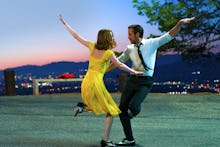 Like every year, this year's awards season has been a long and tiring one. It's a tight race as we head into the 89th Annual Academy Awards, airing Sunday, Feb. 26 at 8:30 p.m. Eastern on ABC. But we still have some predictions for the top prizes.
Over the past few months, we've sat through several different award shows. From the Golden Globes to the Critics' Choice Awards to the SAG Awards, we think we know who will take home Oscar gold.
While some categories like best actress and best supporting actress are probably safe bets this year, there is always room for an upset — and we're betting on one or two. So here are our predictions for the Oscars:
Best actor
Count on this category to be one of the few possible "upsets" across the four major acting categories. 
While Casey Affleck has been the presumed frontrunner — much to Brie Larson's dismay — Denzel Washington quietly snatched away any momentum Affleck had going for him. 
After Washington won the SAG Award in January, it seems more of the academy is in favor of the legendary actor. The Screen Actors Guild has correctly predicted the category for the last 10 years, and we don't see them breaking that streak this year. 
We also don't see the academy voting for Affleck following the sexual abuse allegations he is currently facing. While that didn't stop him from winning the Golden Globe, Oscar voters might not feel the same. There is a chance Affleck will walk still home with the statue, but our money is on Washington to take home his third Oscar on Sunday. 
Best supporting actor
Mahershala Ali will win the Oscar for his outstanding work in Moonlight, and there are no ifs, ands or buts about it. 
The actor hasn't exactly cleaned up all award season — we're still processing Aaron Taylor-Johnson winning the Golden Globe for his performance in Nocturnal Animals. But Ali has won the most important prize so far: the SAG Award. Unlike with best actor, the category hasn't been great at accurately predicting who will take home the Oscar.
Thankfully, in addition to the SAG Award, Ali also won the Critics Choice Award, so we believe he has enough momentum behind him to take home the biggest prize.
Best supporting actress
Viola Davis will win her first Oscar for her critically acclaimed performance in Fences, and we can't wait. 
Davis made history after becoming the first black actress to earn three Oscar nominations. She will grab the best supporting actress statue during the ceremony, and it's not even up for debate. The other four nominees in the category — Michelle Williams, Naomie Harris, Nicole Kidman and Octavia Spencer — haven't been as celebrated this year as Davis has. 
She has won mostly every award she's been nominated for, and rightfully so. After winning the Golden Globe and the SAG Award in January, the Oscar is next. 
Best actress
Similar to best supporting actress, best actress has been one of the few constants throughout awards season. 
Emma Stone will likely take home the award on Sunday night for her performance in La La Land. This would be her first win after two nominations, previously earning a best supporting actress nomination in 2015 for her role in Birdman. 
While there has been much debate over whether or not Stone deserves it, the Oscar is hers to lose. Isabelle Huppert has been on Stone's tail winning the Golden Globe for best performance in a drama, but we don't think she has enough support behind her. If Stone wins, we're hoping she thanks her aunt who used to live in Paris during her acceptance speech. 
Best director
Of the history-making 14 nominations La La Land earned, it won't win in every single category. One of the major categories it will probably miss out on is best director. We think the academy will split the winners for best picture and best director. If that happens, we're hoping Barry Jenkins wins for his work on Moonlight over Damien Chazelle.
Best picture
Awards season will conclude this Sunday with the crowning of the year's best film. While it's up for debate which movie deserves the best picture prize — the academy has gotten it very wrong countless times over — there is only one frontrunner here. 
La La Land has garnered a lot of criticism along with all of its praise. Many have issues with its musicality, its story, its actors who can't really sing and how it pales in comparisons to other musicals. 
The Emma Stone and Ryan Gosling toe-tapper was the darling of festival season and a box-office success. Not to mention it has cleaned up all award season. It's a film about Hollywood made exactly for Hollywood. Its message is to never give up on your dreams, which means it's the kind of thing voters eat up. So whether you hate it, love it or love to hate it, the film will likely walk away with the top prize this year.
Mic has ongoing Oscars coverage. Please follow our main Oscars hub here.