Meet the federal elections commissioner who "will not be silenced" by Donald Trump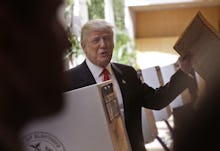 Federal Elections Commission member Ellen Weintraub sent President Donald Trump a valentine last week — but the message on it was anything but romantic.
"Would Love 2 C Your Proof," read a candy heart Weintraub tweeted along with the hashtag "#FactsMatter" and a link to a statement saying that if Trump has proof of systemic fraud, he should come forward with it.
"When I saw that the president was making an allegation about people being bused in from out of state to vote in New Hampshire, I felt compelled to speak out," Weintraub said in a phone interview Wednesday.
Trump, without evidence, has alleged the American voting system is rife with fraud. In the case Weintraub cited, the President claimed Massachusetts residents flooded Granite State polling sites, casting ballots illegally and handing Democratic rival Hillary Clinton a win in the state. 
Though there's nothing illegal about it, he's also railed against people registered to vote in more than one state; some of those people turned out to be on his team.
In January, Trump called for a large-scale investigation of supposed corruption of the system, blowing a dog whistle to his followers in the process by archly saying, "take a look at what's registering, folks." 
On Wednesday, White House press secretary Sean Spicer said Vice President Mike Pence would be in charge of that inquest.
Weintraub said Trump "has been entrusted by the American people with this sacred responsibility to rep their interests, and he owes it to them to be honest and forthcoming."
"If he doesn't have evidence that there's voter fraud going on, he shouldn't be repeating this, because it is damaging to our democracy," she added.
Her outspokenness scored her a formal complaint from Cause of Action, a nonprofit law firm "focused on ensuring the federal regulatory process is open, honest and fair."
Cause of Action's complaint to the FEC claims Weintraub "violated applicable ethics regulations when she used government property and official time to call on President Trump to provide evidence of his claims of voter fraud in New Hampshire and then continued to promote her statement after it was issued."
Weintraub, who has been a FEC commissioner since 2002, said the complaint isn't "about use of government resources. It's about the fact that people don't like what i'm saying. That's not the way we do business in America."
The commissioner, who called the letter an attempt to "muzzle" her, added, "They want me to stop talking. They want this to go away. And I'm not going to stop talking."
Weintraub, a native New Yorker who holds degrees from Yale College and Harvard Law, has added her voice to those of watchdogs who say questions about the integrity of the voting system that come without proof — especially from the leader of the country — can have ramifications beyond shaking confidence in fair elections.
"Claims of voter fraud have been used in the past as a pretext for enacting measures that end up disenfranchising people [and] making it harder for legitimate United States citizens [to vote]," she said.
As to potential accusations that Weintraub, a Democrat, is working Trump over because he's a Republican, she firmly shrugs off the idea: "[As a commissioner,] I have voted to fine Democrats millions of dollars," she said. "I am not shy about calling out Democrats or Republicans when I think they have violated the law."
While she acknowledged she can't "make" Trump do anything, Weintraub said what she can do is keep calling for accountability.
"When government officials say things without evidence, I think it's important for other government officials, American citizens, to ask for the proof," she said.
"We are a country that's become divided not only by ideology, but by the facts we're willing to accept. How can we ever make progress on coming up with appropriate policy solutions if we don't agree what the facts are?"