'The Irishman': How Netflix got the rights to Martin Scorsese's big A-list movie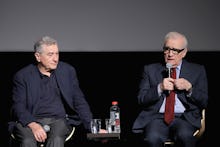 Robert De Niro and Martin Scorsese are collaborating once more, and this time, they will reportedly be teaming up with Netflix. Indie Wire reported that Scorsese's The Irishman, which is set to star De Niro and Al Pacino, is in the process of being picked up by Netflix. The film, carrying a reported budget of $100 million, was initially attached to Paramount, which has an overall feature deal with Scorsese. 
The report suggests that the movie is simply too risky for Paramount, especially with chairman Brad Grey departing. An unnamed source told IndieWire: "Scorsese's movie is a risky deal, and Paramount is not in the position to take risks. This way, he can make the project he wants."
The screenplay for The Irishman was written by Steve Zaillian, adapted from the novel I Heard You Paint Houses, written by Charles Brandt. De Niro is set to star as Frank "The Irishman" Sheeran, a mob hitman who allegedly was involved with Jimmy Hoffa's famous disappearance. Pacino is set to star alongside De Niro, but his deal is not yet finished, per IndieWire's report. 
What may be most interesting about The Irishman, outside of the collaboration between De Niro and Scorsese, is that the film will use de-aging technology — similar to Rogue One: A Star Wars Story — to make the cast look younger. Gastón Pavlovich, a producer for The Irishman (and Scorsese's Silence), recently spoke with Cinema Blend about the technology that will be used to de-age the cast: 
Well it's an extraordinary technology that we've been looking at. You don't use prosthetics, make-up, they have acting and the technology is able to have them go through different time ages without the prosthetics. So we've seen some tests and it looks extraordinary. We were able to film Bob and just do a scene, and we saw it come down to when he was like 20, 40, 60, so we're looking forward to that, from that point of view, for 'The Irishman' ... Imagine seeing what De Niro looked like in 'The Godfather 2' days, that's pretty much how you're going to see him again.
Prior to landing with Netflix, The Irishman's international distribution rights were scooped up by STX Entertainment in a deal worth $50 million. But according to IndieWire, Netflix will be acquiring worldwide rights, meaning that STX and other foreign distributors likely will not be involved. 
No release date has been set for The Irishman, but IndieWire reported the film is expected to drop in 2019, with an Oscar-qualifying limited release. Netflix has not yet commented on the deal. 
Mic has ongoing coverage of Netflix. Please follow our main Netflix hub here.