Dakota Access Pipeline could have oil flowing two weeks from now, builder says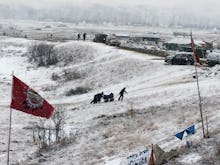 The company responsible for constructing the contentious Dakota Access Pipeline said on Tuesday that oil could be flowing through the pipeline in as little as two weeks, defying earlier estimates for when the project could be completed.
ABC News reports that Energy Transfer Partners — the Texas-based company tasked with building the pipeline, which the Standing Rock Sioux Tribe opposes on the grounds that it bisects sacred lands and threatens water supply — said in a court filing that the project could be completed "anywhere between the week of March 6, 2017, and April 1, 2017."
The earlier-than-expected finish date is bad news for the pipeline's opposition, which has been staked out at the Oceti Sakowin camp and others in North Dakota since August 2016 to block its construction.
Although a historic victory was handed down to protesters from the U.S. Army Corps of Engineers in December, President Donald Trump wasted no time in taking executive action to reverse the decision after his Jan. 20 inauguration.
Since then, the Cheyenne River Sioux have joined the Standing Rock Sioux and taken legal action as a last-ditch effort to obstruct the pipeline's completion, filing a motion "to halt construction and drilling" at the U.S. District Court for the District of Columbia on Feb. 9.
According to court documents obtained by ABC News, the Cheyenne River Sioux argued that the finished oil pipeline would desecrate the waters upon which they "rely for their most important religious practices and therefore substantially burden the free exercise of their religion." The court denied the motion.
A separate motion filed by the Cheyenne River Sioux Tribe seeking a preliminary injunction is still pending, and will be heard in a Washington, D.C court on Feb. 27.