A majority of Americans think Trump will involve the US in a "major war"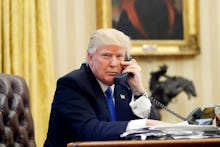 A new NBC News poll found that 66% of Americans worry that President Donald Trump will get the United States mixed up in another "major war" during his term.
As for how to steer the country away from warfare? Sixty-two percent of the more than 11,000 adults in the U.S. felt that the best way for Trump to avoid involving the country in a war involves his administration considering ally interests, even if it means making compromises. Accordingly, an overwhelming 80% of Americans support continued U.S. membership in NATO, to which 28 countries belong.
The results of NBC's survey arrived on the heels of Vice President Mike Pence's visit to NATO headquarters on Monday, where he reaffirmed the country's commitment to the organization.
But this renewed commitment came with a kind of caveat.
"The United States is expressing strong support for NATO even as we challenge NATO and challenge our allies to evolve to the new and widening challenges and further meet their responsibilities," Pence said.
Pence's call for European allies to "further meet their responsibilities" echoes statements Trump made about NATO in a July New York Times interview. At the time, the then-Republican nominee suggested that some countries in NATO weren't pulling their weight — or, in his words, "paying their fair share."
"That means we are protecting them, giving them military protection and other things, and they're ripping off the United States," Trump said. "And you know what we do? Nothing."
Trump went on to say that countries that aren't doing their part should make up for their "past deficiencies" or leave the organization. 
"And if it breaks up NATO, it breaks up NATO," he added.
U.S. involvement in the organization is crucial to keeping the U.S. safe, NATO Secretary General Jens Stoltenberg said following Trump's remarks. If Trump wants to avoid war — and quell Americans' fears — he'd do well to continue his commitment to NATO, Stoltenberg suggested.
"Two world wars have shown that peace in Europe is also important for the security of the United States," he said.