Here's what world leaders who endorsed President Trump think of him now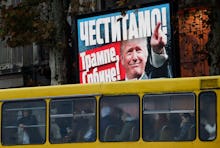 The 2016 election saw a motley crew of world leaders endorse current U.S. President Donald Trump. 
Now that he has been in office for more than a month, does he still enjoy their support, or do they have buyer's remorse? 
Robert Mugabe (Zimbabwe)
Zimbabwe's president for life, Robert Mugabe, appeared to endorse Trump's candidacy last summer. He told two U.S. Congressmen, "Once Trump is your president, you'll wish you had been friendlier to me." Recently, at his 93rd birthday party, he voiced his hope that Trump would lift sanctions on Zimbabwe. 
He expressed praise for Trump's nationalist agenda: "When it comes to Donald Trump, on the one hand talking of American nationalism … America for Americans … on that we agree: Zimbabwe for Zimbabweans." 
It seems as though Mugabe hopes that Trump will have little interest in pursuing democratization or a human rights agenda. Trump, for his part, has not shown any particular interest in Zimbabwe — though we know he has heard of the African nation due to a Saturday Night Live sketch featuring a fictitious call between Trump and Mugabe.
Kim Jong Un (North Korea)
On May 31, 2016, DPRK Today endorsed Trump's candidacy. As reported by Reuters, it called him the "right choice for American voters." North Korea appreciated Trump's willingness to talk to North Korea outside the framework of sanctions. It also appreciated his apparent willingness to withdraw U.S. troops from the Korean peninsula. 
Since his election, North Korea has tested intermediate-range ballistic missiles and assassinated Kim Jong Un's brother on Malaysian territory. These aggressive actions have been met with almost no response from Trump. 
CNN reported that a recent high-ranking defector claimed Kim wants to meet with Trump and sees him as someone willing to compromise. For his part, Trump told CNN, referring to Kim, "I would speak to him. I would have no problem speaking to him."
Victor Orban (Hungary)
This past summer, in a speech broadcast on Hungarian state media, Hungarian President Victor Orban said that Trump was the better option for Hungary. He was the first EU leader to endorse him. He called Trump "upstanding" and appreciated his lack of interest in exporting democracy.
Since the election, the two have spoken. Orban said that Hungary's position has "improved remarkably" under the new administration. Orban's government has also come out strongly in favor of Trump's restrictions on immigration.
Milos Zeman (Czech Republic)
Czech President Milos Zeman offered a late endorsement of Trump. In September, he said that if he were an American citizen, he would vote for Trump. 
Zeman is a strong supporter of Russia, is opposed to Muslim immigration and is seen as a hardliner against Iran. As reported by Politico, in a phone call after Trump's inauguration, Trump invited Zeman to visit the White House and told him, "You're my type of guy."
Vladimir Putin (Russia)
Oh, my friends, what is there to say that hasn't been said about this love affair between two autocrats — one would-be and one actual — that hasn't been said before? 
Seventeen U.S. intelligence agencies concluded that the Russian government involved itself in the U.S. election in a deliberate attempt to get Trump elected. Since the election, Trump has continued to praise Vladimir Putin and Russia. 
The Michael Flynn debacle and the heightened scrutiny on Trump's Russia connections may have set things back a bit; Russian state media has not been quite as effusive in its praise of Trump in recent weeks. But it seems that Russia still supports its golden child in Washington. 
Bonus: Islamic State
The so-called "Islamic State" is not actually a state, but it is inarguably a player in world politics. ISIS was quick to endorse Trump during the election. 
In August 2016, an ISIS spokesman wrote, "I ask Allah to deliver America to Trump." An ISIS supporter wrote, "The 'facilitation' of Trump's arrival in the White House must be a priority for jihadists at any cost!!!" ISIS' hope was that Trump would "prove" that the U.S. was at war with Islam.  
Since the election, Trump's "Muslim ban" immigration policies have been warmly welcomed by ISIS, which has repeatedly referred to the executive orders as "blessed." 
The Washington Post reported, "Comments posted to pro-Islamic State social media accounts predicted that President Trump's executive order would persuade American Muslims to side with the extremists."
The leaders that endorsed Trump are unlikely to ever receive the Nobel Peace Prize, but they are all savvy politicians. Just one month into his presidency, it seems that they likely made the right pick for their interests.