White House is keeping Kellyanne Conway off TV after "off message" remarks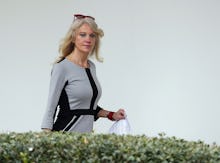 White House aide Kellyanne Conway has been noticeably absent from the television airwaves over the past week.
That absence is intentional on the part of the White House, according to a Wednesday CNN report, which said Conway has been sidelined from making TV appearances after "off message" remarks, both during the scandal surrounding Mike Flynn's resignation and her unethical promotion of Ivanka Trump's clothing line.
According to CNN's report, the White House felt Conway's media appearances were "doing more harm than good" and have pulled her from TV.
Not only did she muddle the message around Flynn's resignation, she was also reprimanded by the Office of Government Ethics for her comments on Ivanka Trump's clothing line.
Conway denied the report in an interview with NBC's Hallie Jackson.
However, a White House source told CNN that Conway's absence from the airwaves has led to a "drama-free week."
"Having Kellyanne off television is helping them," the aide told CNN.