Trump administration lifts Obama's guidance protecting transgender students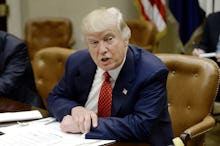 On Wednesday, President Donald Trump lifted former President Barack Obama's historic Title IX guidance, which compelled public schools to allow students to use restrooms matching their gender identity. The Trump administration rescinded Obama's guidance, claiming it caused "significant litigation regarding school restrooms and locker rooms." 
The letter sent to U.S. public schools from the Department of Justice and the Department of Education, available in full at BuzzFeed, says the Trump administration has "decided to withdraw and rescind the above-referenced guidance documents in order to further and more completely consider the legal issues involved. The Departments thus will not rely on the views expressed within them." 
However, the letter also noted that the withdrawal "does not leave students without protections from discrimination, bullying, or harassment."
On Wednesday night, education secretary Betsy DeVos tweeted, "I consider protecting all students, including LGBTQ students, not only a key priority for the department, but for every school in America." 
In a statement, attorney general Jeff Sessions said the prior guidance "did not contain sufficient legal analysis or explain how the interpretation was consistent with the language of Title IX."
According to a report in the New York Times, Secretary of Education Betsy DeVos resisted signing the order because she was "uncomfortable with it," according to three Republican sources. DeVos, whose only recourse was to resign or defy the president, acquiesced to the president's demands that she drop her objections. 
Trump's reversal of the guidance may affect the decision in the upcoming Supreme Court case of Gavin Grimm, the 17-year-old Virginia transgender teen who sued his school board to use the restroom matching his gender identity. The court took the case in October, though advocates had hoped the high court would deny the case and let the lower court's decision — which was in favor of Grimm — stand. 
"Not taking the case is the goal — the court should stay away from it," American Civil Liberties Union attorney Joshua Block previously told Mic. "There's no need for the court to get involved. We absolutely want the court to deny [certiorari] and he can start using the restroom in peace."
During a Wednesday press conference, press secretary Sean Spicer told reporters that Trump's order was coming the same day. He also reminded those watching that the president doesn't think the federal government should weigh in on these issues, insisting Trump is a "believer in state's rights." 
The debate over which bathroom transgender students may use has been a hot-button issue since the March 2016 passage of North Carolina's controversial HB2, a law that, in part, requires North Carolina residents to use public restrooms matching the gender they were assigned at birth versus their gender identity. 
Though the law turned out to be an economic hindrance to North Carolina, several states, including Texas, have floated similar laws. 
This story is breaking and will be updated.