The Anti-Defamation League headquarters received an anonymous bomb threat in NYC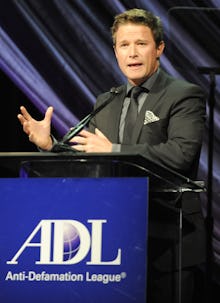 The Anti-Defamation League, one of the largest organizations combatting anti-semitism in the United States, received a bomb threat on Wednesday.
According to ADL CEO Jonathan Greenblatt, the bomb threat targeted the ADL's national headquarters in New York City. 
"While there is no information at this time to indicate that this is more than a threat, we are taking it very seriously," Greenblatt said in a statement. "We are working with law enforcement officials to determine if it is connected to similar threats against Jewish institutions across the country."
There have not been any reports of evacuation at the ADL New York office. ADL did not yet respond to Mic's request for comment.
The bomb threat comes on the heels of numerous reports of threats targeting Jewish community centers in the country. On Monday, reports broke that a historic Jewish cemetery was vandalized in St. Louis, MO.
According to ThinkProgress, there have been a total of 261 hate violence incidents since Donald Trump's election win through Feb. 9. More than a quarter of those incidents — 26.8% — targeted members and communities of the Jewish faith. Of 70 anti-semitic attacks across the country, 11 occurred in New York City.
Despite the bomb threat, Greenblatt said the ADL will continue to work vigorously in fighting anti-semitism.
"This is not the first time that ADL has been targeted, and it will not deter us in our efforts to combat anti-Semitism and hate against people of all races and religions," Greenblatt said.