24-year-old trans woman Keke Collier shot and killed in Chicago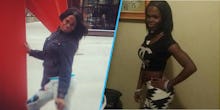 On Tuesday, 24-year-old trans woman Keke Collier was shot and killed in Chicago's Englewood neighborhood, according to WLS-TV. Early reports misgendered Collier as male. 
Shasha Lauren, a friend of Collier's who has known her for two years, confirmed that the person described in the WLS report is Collier. Lauren works as a peer navigator at Chicago House where she helps transgender women access services like housing, health care and legal services. 
According to LaSaia Wade, founder and director of trans justice organization TNTJ Project, Collier also went by the name Tiara Richmond. 
Lauren and other friends of Collier's shared farewell messages about her on Facebook. Along with a message to Collier, they remembered T.T. Saffore, who was killed in Chicago in September. 
Lauren told Mic that according to witnesses who spoke with her, she got in a car with a man who later shot her. According to WLS-TV, Collier was found in the street and pronounced dead at Advocate Christ Hospital. 
"Y'all be careful out here," a friend of Collier's wrote on Facebook. "Life is too short. I love my girls." 
Though some speculated on Facebook, police say the circumstances of her death are unknown, according to WLS-TV. The outlet indicated that police are investigating. 
On Wednesday night, a friend of Collier's, Jaliyah Armstrong, posted a Facebook live video from a vigil from the sit where Collier was shot.
"Stand up. It could've been me, it could've been you," Armstrong says in the video. "Trans lives matter." 
Armstrong also shared an image from the candlelight vigil with Mic.
Collier is the fourth reported homicide of a transgender woman in 2017. Earlier in February, Mic reported that black transgender woman JoJo Striker was killed in Toledo, Ohio. 
This story is breaking and will be updated.