Make this sweet Pop-Tarts burrito —because you deserve it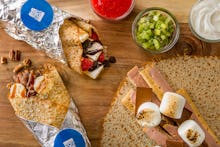 Junk food mashups are old news. We've already seen 1,200 versions of the croissant-doughnut, and by this point if you don't know that freakshakes are mere Instagram bait, we dare you to drink one. 
Turning childhood favorites into dishes that can pass as adult meals? Very cool right now. Trendy restaurant menus are seemingly overloaded with gourmet chicken fingers and hot dogs and Brooklyn's hottest reservation for a year running is for buttered noodles at Lilia. You may not be able to dress up your buttered pasta at home to resemble an expensive restaurant dish, but making a masterpiece out of a package of Pop-Tarts? That you can do.
Kellogg's NYC, the Times Square cereal cafeteria that quickly gained notoriety after opening in summer 2016 with $6 bowls of Rice Krispies and fancy milk and cereal bowls created along with Milk Bar cult baker Cristina Tosi, transformed into the Pop-Tarts Café on Feb. 21. 
The week-long pop-up will dole out Pop-Tarts tacos, chili Pop-Tarts fries and perhaps most importantly, Pop-Tarts burritos to those willing to spend $12 on the sugary creation. 
For those who can't (or choose not to) make it out to Times Square, Pop-Tarts shared a burrito recipe with Mic so you can recreate all the saccharine breakfast glory at home. Invite friends.
Pop-Tarts Burrito  
Ingredients:
• 3 crepes
•  2 S'mores Pop-Tarts, broken into sticks
•  5 jumbo marshmallows
•  3 squares of a milk chocolate bar
•  2 Chocolatey Caramel Pop-Tarts, broken into sticks
•  ½ fresh banana, sliced
•  Chopped pecans
•  Caramel sauce
•  Pinch of salt
•  2 Strawberry Pop-Tarts, broken into sticks
•  2 fresh strawberries, sliced
• Chocolate chips
•  Chocolate sauce
•  Frosting
•  Greek yogurt
•  Strawberry salsa (finely chopped strawberries)
•  Kiwi salsa (finely chopped kiwi) 
Instructions:
1. Lay a crepe out, flat
2. Place the S'mores Pop-Tarts in the center
3. Top with the chocolate bar and marshmallows
4. With a blow torch, torch the marshmallows until toasty (you could also try a butane lighter)
5. Roll and wrap the burrito in foil like a burrito, leaving the top third exposed
6. In a small bowl, mix equal parts frosting and Greek yogurt
7. Serve the burrito with a small cup of the frosting mixture, strawberry salsa, and the kiwi salsa.
8. Repeat with the Chocolatey Caramel Pop-Tarts (using banana, pecans, caramel sauce and salt) and with the Strawberry Pop-Tarts (using fresh sliced strawberry, chocolate chips and chocolate sauce)