3 ways to save money in 3 minutes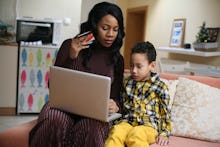 Online shopping is addicting. It's also become a way of life, with consumers hitting up virtual stores for everything from toilet paper to the world's largest Lite-Brite. 
In a 2016 comScore survey for UPS, online shoppers said for the first time ever that they made a greater percentage of purchases online than off. No wonder U.S. e-commerce sales rose 15.1% to $394.9 billion in 2016, according to census data. 
Buying online makes sense if you save money or find things not available in stores. Unfortunately, the ability to click and shop every day with such ease — not to mention the tricks online retailers use to get you to buy even more — also makes it more likely you'll spend money mindlessly. 
You can resist the urge to click-and-buy when it's bad for your budget though. These three tips will help you get your impulse online spending in check: 
Never store your credit card information online
Most stores encourage you to create an account and store your credit cards number and expiration date. It's tempting to do this. Don't give in. 
As Lifehacker explains, storing your credit card number online "allows you to check out with as few clicks as possible, before you've given enough thought to making a purchase." 
NerdWallet adds, "It's tempting enough as it is to just 'charge it' because you don't see the cash going from your hand to the merchant's. However, if you don't even have to type in those numbers, it pushes that purchase even further into abstraction,"  
If you actually have to get up from the couch, get your credit card and type in all the info, you'll think more carefully about whether a purchase is worth it. If buying the item isn't worth getting up and typing in, it's not worth your hard earned money. 
Unsubscribe from daily deal emails
Most companies ask for your email address so you can receive coupons, deals and updates on sales. Websites like Groupon and Joss & Main also aggregate items for sale and send out exclusive daily "members" deals. 
Signing up for emails from companies could seem like a good way to save. You get coupons, after all! The problem is, these emails can entice you into making a purchase you don't need. They also clutter up your inbox.
Companies devote a lot of effort to buy, and targeted email campaigns are one big way they do it.
One survey found 81% of consumers who received a targeted email were likely to make additional purchases. If this is a purchase you wouldn't have made if the email hadn't come, you've spent money needlessly. 
Unsubscribe to avoid temptation. Let your actual needs determine what you'll buy. Browse websites like RetailMeNot to find a coupon when you decide to make a purchase, not when retailers want you to buy.
Choose a screensaver that reminds you of your financial goal — and why you're being so thrifty in the first place
Visual reminders are a great way to keep your finance goals fresh in your mind. 
"Having visual reminders of our goals and wishes helps strengthen our daily energy for making consistent choices that will move us close to our desired outcomes," Laurie Bonser notes in her book, Financial Stewardship. 
If your goal is to buy a big house some day, put a picture of your house as your screensaver or your desktop wallpaper. If you want to travel, make your wallpaper a picture of your dream vacation destination. 
Every time you sit down at your computer, you'll be reminded why you're trying not to waste money. Ideally, the image will remind you that spending on this purchase means it will take just that much longer to achieve your dream. 
Sign up for The Payoff — your weekly crash course on how to live your best financial life. Additionally, for all your burning money questions, check out Mic's credit, savings, career, investing and health care hubs for more information — that pays off.