Pence visits vandalized Jewish cemetery as Trump faces anti-Semitism allegations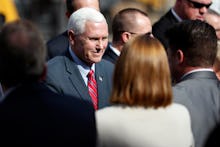 On Wednesday, Vice President Mike Pence visited a Jewish cemetery in St. Louis that had been damaged over the weekend after vandals toppled hundreds of gravestones. 
Pence's last-minute visit came as President Donald Trump faced down allegations of anti-Semitism after the White House was slow to condemn bomb threats against Jewish community centers across the country. 
Pence's visit to the cemetery was unannounced. He was already in the state to visit a Fabick Cat facility to promote small business.
During his visit to the cemetery, Pence condemned the vandalism, declaring, "There's no place in America for hatred."