Tom of Finland launches extremely NSFW online store — and yes, there's a $10K "f*ck rug"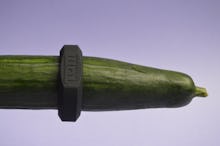 Ever wanted to make love on a rug that depicts two muscle hunks, they too making love? You're in luck — if you have a few grand to shell out. 
Tom of Finland (the pseudonym used by late Finnish artist Touko Valio Laaksonen), known for his highly masculinized homoerotic fetish art, has finally opened a long-awaited online store that includes apparel, XXX toys, art editions, paper goods, home textiles, luxury rugs, vintage ephemera and "specialized products," according to a press release.
"If someone can't afford a $30,000 drawing, they can maybe afford a $20 cock ring," Joakim Andreasson II, director of licensing for Tom of Finland Foundation, said in an interview.
The store, which features 400 items, is a joint project between the Tom of Finland Foundation and leading brands in fashion, art, design and publishing, including textiles by Finnish heritage brand Finlayson, limited edition luxury rugs by Henzel Studio, pleasure tools (including dildos hand sculpted after Tom's finest), athletic apparel by Rufskin and a vast range of paper goods and books published by Putinki, Taschen, Rizzoli and Bruno Gmuender.
Here are some highlights, ranging in price from low to high (warning: images below are NSFW):
Cock ring set, $22
Cock enhancer, $34
Kitchen apron, $45
Umbrella, $49
Skateboard, $55
Fragrance, $90
Backpack, $100
Bomber jacket, $144
Bean bag, $285
So who is this Tom of Finland?
And why, in addition to the new online store, is Tom the subject of an upcoming film; his image depicted on one of Finland's just-launched national emojis?
According to a press release: 
Beginning in the 1940s, [Tom of Finland] robbed straight homophobic culture of its most virile and masculine archetypes (bikers, hoodlums, lumberjacks, cops, cowboys and sailors) and recast them — through deft skill and fantastic imagination — unapologetic, self-aware and boastfully proud. Tom's positive message of respect, tolerance and sexual freedom — expressed through a body of work produced over six decades, has turned him into a hero and symbol for human rights.
"At the core of Tom's art is the emotion of having no shame," Dome Karukoski, director of the upcoming Tom of Finland film, said in an interview. "No shame about your sexuality nor shame about your fantasies or fetishes. That is a universal theme that touches people from all ages to from all times. Combined with a drawing skill that is quite immaculate and almost impossible to imitate fully, you have an artist that stands out."
His work is timeless," Andreasson II added. "Because of Tom of Finland's compound status as artist and sub-culture icon, as well as universal message — advocating for universal human rights, sexual freedom and respect — his work crosses boundaries, while advocating for a sexy good time and looking damn good while doing it."
Why only now is he getting a dedicated online store? 
That answer can be credited to the Finnish post office, who in 2014 released postal stamps in his honor, thus catapulting interest in his work in his home country, which led to a number of the partnerships, many of which are seen throughout the store.
So whether you're looking for a "Cocksucker" necklace, oven mitts, nipple clamps or just a sensible clutch, the Tom of Finland Store does not disappoint.