Protesters couldn't stop the Dakota Access pipeline — but their stand wasn't in vain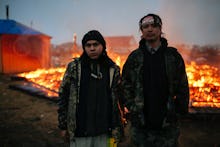 Wednesday marked the last full day of the Standing Rock Sioux tribe's protest against the Dakota Access oil pipeline.
As North Dakota law enforcement officers converged on the Oceti Sakowin camp near Cannon Ball, the last 150 or so dissidents — down from roughly 8,000 in December — chanted, sang songs and burned their makeshift homes to the ground in ceremonies honoring the camp's past inhabitants. 
Some protesters left voluntarily, to little fanfare. At least nine people — including Mic reporter Jack Smith IV — were arrested during a police raid around 4:30 p.m. Mountain. About 50 remained on Wednesday night, and were expected to be removed early Thursday. The Standing Rock Sioux tribe and their supporters have promised to fight the pipeline's construction in court, where most of the action will take place now that the camp is evacuated. 
It's hard to imagine a grimmer — or quieter — demise for the banner indigenous protest of the 21st century. 
Activists were ecstatic in December when the Army Corps of Engineers denied an easement letting Energy Transfer Partners — the pipeline's builder — burrow under Lake Oahe and threaten the Standing Rock Sioux's drinking water. But it all came crashing down when President Donald Trump took office. Already a documented adversary of Native Americans from his casino days, Trump cemented his allegiances to big oil and corporate interests when he signed an executive order demanding that construction continue, without an environmental impact statement from the Army Corps.
"I believe that construction and operation of lawfully permitted pipeline infrastructure serve the national interest," the memorandum preceding Trump's order read.
But for the time being, activists can take heart. They have infused a once dormant indigenous protest movement with renewed energy and drawn national attention to their struggle. And they've once again exposed the hypocrisy of a federal government that's rarely made a promise to Native peoples that it didn't break.
Throughout his campaign and during his inauguration speech, the president promised to be an advocate for America's "forgotten people" — the rural and working class voters who were so instrumental in his victory in the Nov. 8 election. Native Americans are the quintessential forgotten people of this nation. They are often rural, poor or working class. But their struggles transpire far from the purview of most Americans, and their political concerns are frequently ignored by Washington.
By ordering Energy Transfer Partners to complete the Dakota Access Pipeline — in defiance of the Standing Rock tribe's very real concerns over its safety — Trump has tossed aside America's forgotten people at his earliest opportunity.