Dakota Access pipeline arrests begin as law enforcement moves to clear protesters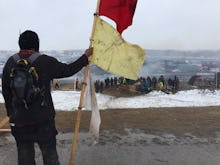 Between nine and 10 people, including at least one member of the media, were arrested as law enforcement started to clear the remaining protesters from camps near North Dakota's Standing Rock Indian Reservation. Mic's Jack Smith IV was among those arrested Wednesday afternoon, a corrections officer at the Morton County Correctional Center confirmed in a phone interview.
Months of protests have roiled the reservation, where construction of the hotly contested Dakota Access Pipeline has been restarted against the desires of Standing Rock Sioux and environmental activists.
Some protesters have remained behind despite orders to clear the camp by a Wednesday afternoon deadline. According to the Associated Press, around 75 people remained past the deadline as law enforcement brought five vans to the scene; roughly 10 were arrested, although Lt. Tom Iverson of the North Dakota Highway Patrol told the AP police would not proceed further on Wednesday evening.
Levi Bachmeier, a policy adviser to North Dakota Gov. Doug Burgum, told the AP some 50 people had remained behind.
According to Smith, who was on the scene at the Oceti Sakowin camp, heavily armed police in body armor moved toward the encampment just hours after remaining Sioux water protectors burned down structures there.
Feb. 22, 2017, 9:42 p.m.: This article has been updated.
Jack Smith IV contributed additional reporting to this article.