Jackie Evancho wants to speak to Trump about transgender rights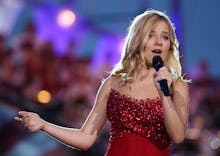 Jackie Evancho, the America's Got Talent contestant who performed at President Donald Trump's not-very-crowded inauguration in January, would like to chat with the president. 
On Wednesday evening, after news broke that Trump rescinded the Title IX guidance the Obama administration issued protecting transgender students, Evancho tweeted at the president, asking he spend some time with her and her sister, Juliet Evancho, who is trans. 
"You gave me the honor to sing at your inauguration," she wrote. "Please give me and my sister the honor to meet with you to talk transgender rights," the 16-year-old wrote on Twitter. 
Earlier in the day, she tweeted that she was "obviously disappointed" in Trump's decision to remove the federal protection. 
Jackie Evancho defended her decision to perform at the inauguration to the New York Times while also defending her sister, who is currently in a lawsuit with her school district to use the restroom that matches her gender identity. 
Evancho said the lawsuit is about "just accepting people for who they are" and is not political. 
Juliet Evancho also supported her sister Jackie's decision in an interview with CBS Sunday Morning.
"The way I look at it Jackie is singing for our country, and it's an honor for her to be singing in front of so many people," Juliet Evancho said. "So I feel that's really where I look at it. And that's where I'm going to leave it right now."