Off-duty LAPD officer fires gun during physical struggle with teenage boy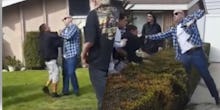 An armed off-duty Los Angeles police officer fired his weapon during a scuffle with a 13-year-old boy on Tuesday, sparking protests in Anaheim, California, on Wednesday night.
According to KTLA 5, the Anaheim Police Department cited kids continually walking on the officer's lawn as the reason for the altercation. Cell phone footage, however, suggests there's more to the story. 
A bystander began filming once the struggle was already underway and later posted the video to YouTube. In it, a teenage boy in a hooded sweatshirt pushes back against a bald man in a blue checkered shirt who is holding him by the collar.
"You're the one who started it," the boy says in the video, adding, "Let me go!"
After the teen complains that "his hands are getting red" and the officer is scratching him, the officer says that "a lot of you's gonna be red because you've been resisting this whole time."
"No I wasn't!" the teen protests. "You tackled me first! I didn't do anything to hurt you. All I said was, 'Respect the girl,' because you said, 'Get out of my property, you piece of cunt.'"
The officer, surrounded by teenagers with cellphones out, drags the minor over to a hedge. Two of the onlookers tackle the officer into the bushes, at which point he pulls a gun from his waistband and fires, scattering the teens. 
The officer did not shoot the 13-year-old, but he was arrested along with a 15-year-old boy, according to KTLA. The Anaheim police department said the teen was "alleged to have threatened to shoot the off-duty officer." The cellphone footage, which the teen's father provided to police after KTLA published its first report on the altercation, suggests that may not have been the case. The boy threatens to sue, not to shoot.
Neither the teen nor the officer were identified in KTLA's story, but the officer has reportedly been placed on administrative leave. Anaheim police arrested the teen on suspicion of making criminal threats and battery; he was released Wednesday and told the outlet that the officer "came at" him after he told the officer to leave a girl alone. 
"I ran to the street to run away from him, and he got me," the boy said of the officer. "He tried to trip me and then he kicked me in my testicles."
On Wednesday night, peaceful protests over the incident near Disneyland turned violent, leading to 24 arrests, according to CBS. Protesters also vandalized the officer's home and, mistakenly, the home of one of his neighbors. 
Already in 2017, police nationwide have shot and killed 169 people, according to the Washington Post's database. Five of them were male minors. In 2016, law enforcement fatally shot 963 people, 15 of whom were boys under the age of 18.