Models of color appeared in every show at New York Fashion Week, according to new report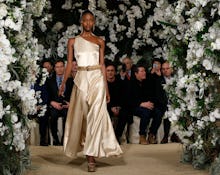 While political activism was a common thread among many of the shows at New York Fashion Week this season, there was something else that seemed to bond the more than 100 designers that showed at NYFW: a commitment to diversity.
According to the Fashion Spot's new diversity report for the Fall 2017 season, which examined 116 shows and 2,700 runway appearances, every single show featured had at least one model of color. 
In the past three years that the Fashion Spot has crunched the numbers, this is the first time this has happened. 
Among the standout shows were Gypsy Sport, helmed by designer Rio Uribe, whose show was 87% models of color. 
Then there was Chromat, which had 77% models of color, followed by Kimora Lee Simmons and Yeezy, with 75% and 74% models of color respectively.
A surprising addition to this list of most diverse shows is Marc Jacobs, who, after being criticized for putting a mostly white cast in dreadlock wigs in September, had 66% models of color in his show. 
Also for the first time ever: Six out of the 10 most-booked models this season were models of color, including Dilone, with 13 shows, and Dominican model Ysaunny Brito, with 12. 
However, there is a large caveat: This actually wasn't the most racially diverse NYFW. 
According to the report, 31.5% of models cast were models of color. That's an uptick from September, but still doesn't trump Fall 2016, which had 31.9% models of colors cast in shows. 
Beyond racial diversity, plus-size models had their biggest year on record, with 26 plus-size model appearances. Compare that to September's 16 and the four from February 2016.
Christian Siriano hosted the most body-inclusive show at NYFW, with 10 plus-size and curvy models walking in his show, including Precious Lee, Sabina Karlsson and Iskra Lawrence. 
But while plus-size diversity skyrocketed, the number of transgender models cast stagnated. 
This year, there were eight transgender model appearances, the same number as Spring 2017 and Fall 2016's Fashion Spot reports. 
Among the most inclusive shows for trans models were Chromat, with five trans models cast — including Maya Monés, Carmen Carrera and Aurel Haize Odogbo — and Gypsy Sport yet again. 
Although these numbers do look promising, the Fashion Spot's own editor-in-chief points out that it's still just a handful of shows that are offering true diversity time and time again. The 26 plus-size model appearances, for example, all appeared in just nine shows. So while the numbers look good, there's still work to do.
"This is our sixth season tracking runway diversity at New York Fashion Week and we continue to see progress year over year," Jennifer Davidson said in a release. "Racial diversity had its second-best season, while plus-size models were more visible than ever for Fall 2017. Despite the improvements, it still comes down to a small handful of designers that make true diversity and inclusion a priority each year."