Future 'HNDRXX': New album release date, track list collaborators and more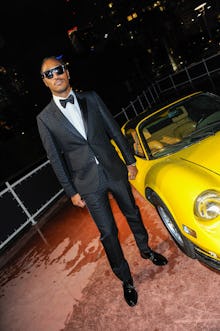 There are two sides to Future and he's telling his story via two album releases. The Atlanta "Super Trapper" already dropped his fifth studio album, the self-titled Future, and now he is serving us the other side to his musical persona with the 17-track album HNDRXX, expected Friday Feb. 24. 
HNDRXX track list collaborators
On HNDRXX, Future brings on two big names ? Rihanna for "Selfish" and the Weeknd for "Comin Out Strong." This is a continuation of his working chemistry with the Weeknd, who was featured on Future's 2016 song "Low Life." Future also had a verse on "All I Know," off the Weeknd's latest album, Starboy.
Future's sixth album is executive produced by DJ Esco. Check out the track list below:
Conception of HNDRXX
"HNDRXX is super personal," Future tells Zane Lowe in the second part of an Apple Beats 1 interview to be released Thursday at 1 p.m. Eastern. "This is the honest album that I was supposed to have been honest about," he continued. 
In a recent motivational message on Instagram, Future builds on this narrative of freeing his true persona on HNDRXX, inspired by late rock musician Jimi Hendrix. "Who told u, you couldn't b exactly who u wanted to be? They lied, they wasn't bold they didn't have the ambition," he wrote. "They was scared of not being accepted by there peers they said I can't I tried I need help, but not me #HNDRXX." 
The rapper also tweeted that by listening to Future, you will then understand HNDRXX. It is clear that Future's fans and critics alike will be waiting to see how HNDRXX will complete his story in this back-to-back album roll out. 
HNDRXX is available for pre-order on Apple iTunes.
Mic has ongoing Future coverage. Please follow our main Future hub here.
At Mic, we are always working to make the content we offer the best it can be. Please take a brief survey to let us know how you'd like to see us improve.