Red X on Facebook: Here's why everyone has a red X on their hand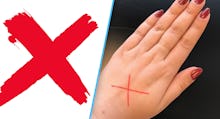 If your Facebook feed is flooded with red Xs and you're seeing people with red Xs on their hands, you're not imagining things — your friends are taking part in Shine a Light on Slavery Day. 
Thursday is the day when people are meant to raise awareness of slavery and human trafficking by drawing red Xs on their hands, posting red Xs online and using the hashtag #EndItMovement. When someone asks you about your red X, the campaign encourages you to tell them about human trafficking across the world. An estimated 45.8 million people were enslaved as of 2016, according to the Global Slavery Index.   
The End It Movement began in 2013, and has raised more than $4 million, according to the organization's website. The red X has been shared more than 500 million times since then. 
You can download the red X images to upload to social media on the End It website. There's even a "digital tool kit" for you to use.