Who votes for the Oscars? How Academy Award winners are chosen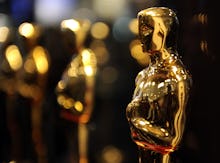 To prepare for the 89th Academy Awards on Sunday, we're giving you the inside scoop on how the Oscars work. 
This year's nominees include La La Land, Fences, Moonlight and more of 2016's standout films. It is such a tight race this year, we're sure Oscar voters had some trouble picking their favorites. 
But how does it all work? From who is part of the academy to how to become a voter, here is what you need to know about Oscar voting.
Who votes for the Oscars? 
The academy is made up of actors, actresses, directors and any artists working in the production of theatrically released films. There are 17 branches of the academy that make up the voters. There are also two separate categories, members-at-large and associates, for those who don't fit into a branch. The votes are then tallied and the award is given to who earned the most votes. 
How do you get into the Academy? 
We've all dreamed of being able to attend the Oscars or to vote for our favorite films. While your office Oscar pool will do the job for now, becoming a member of the academy isn't that simple.
According to the Oscars' website, an easy way to get in is to earn yourself a nomination. Nominees are instantly considered for membership. If you're not nominated, you can get sponsored by two academy members. The members have to be from the branch you want to join, and then the board decides if you're worthy.
What does an Oscar ballot look like? 
The Oscar ballot is a very simple-looking pamphlet that holds all the nominees and their respective categories. With a circle or box beside the names of the nominees, voters pick their favorites. It's an uncomplicated voting process for such an elaborate affair. 
Who is in the Academy?
The academy's members list is a long one that includes your favorite actors, directors and screenwriters. 
Last June, following the #OscarsSoWhite backlash, the Academy of Motion Picture Arts and Sciences released a record 683 invitations to new academy members. They included actresses such as Emma Watson, Brie Larson and Alicia Vikander. Actors like Mark Rylance, Idris Elba and Michael B. Jordan were also included. 
Mic has ongoing Oscars coverage. Please follow our main Oscars hub here.