Larry Nassar: What to know about the doctor at center of the Olympic Gymnastics scandal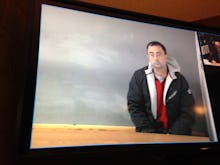 David Eggert/AP
The list of sex abuse charges against Michigan sports doctor Larry Nassar grew longer Wednesday, when the state's attorney general filed 22 new counts of first-degree criminal sexual misconduct against the disgraced gymnastics physician. He was arraigned Thursday morning.
"This guy is disgusting," Michigan Attorney General Bill Schuette said of Nassar, according to NBC News. "This guy is despicable.
"He is a monster."
Nassar's arrest in November created controversy in the gymnastics world, as dozens of his former patients accused him of sexual assault, with more and more victims coming forward in recent weeks. Here's what you need to know about the case:
Nassar practiced sports medicine
Before his arrest, Nassar was a doctor for both the Michigan State University women's gymnastics and crew teams. The school fired him in September. 
Between 1996 and 2015, he was the team doctor for USA Gymnastics, the sport's governing body. Before he was fired over "athlete concerns," he treated U.S. gymnasts in four Olympic games. 
Nassar allegedly molested dozens of gymnasts and kept child pornography
Nassar was first charged with three counts of criminal sexual assault against minors under the age of 13. He has been accused by over 80 women and girls, with new accusers filing police complaints on a daily basis. He had been free on a $1 million bond, before another arrest in December on federal charges of possession of child pornography for some 37,000 images found on his computer and video footage in which he can be seen grabbing girls in a pool. He is being held without bail.
Nassar allegedly made a habit of vaginally penetrating his patients, sometimes while wearing gloves and sometimes not. NBC News reported that he told one patient, a 15-year-old girl, not to tell her parents because "they wouldn't understand."
Nassar pleaded not guilty to the charges in November, arguing that vaginal penetration can be part of osteopathic practice. Many of his patients, however, said his treatment felt more like molestation.
Rachael Denhollander saw Nassar five times for treatment of lower back pain when she was 15. She told the Indianapolis Star that Nassar's behavior became increasingly lewd with every session: that he would fondle her genitals and breasts, digitally penetrate her vagina and anus, all of this while her mother was in the room but blocked from view.
"I was terrified," Denhollander told the Star. "I was ashamed. I was very embarrassed. And I was very confused, trying to reconcile what was happening with the person he was supposed to be. He's this famous doctor. He's trusted by my friends. He's trusted by these other gymnasts. How could he reach this position in the medical profession, how could he reach this kind of prominence and stature if this is who he is?"
Another of the women who accused Nassar was allegedly 6 years old when he abused her, masturbating in front of her, rubbing his genitals against her and sometimes putting a finger in her vagina. 
Allegations against Nassar are part of a larger problem in gymnastics
A number of Nassar's former colleagues apparently ignored the doctor's behavior, some going so far as to cover for him. 
Bela and Marta Karolyi, the married couple who formerly coached the U.S. gymnastics team, are being sued by a former gymnast and patient of Nassar's who said the Karolyis knew what was going on and did nothing about it; indeed, the gymnast asserted that they perpetuated the abuse in their own right. Her lawsuit also accused the upper echelons of USA Gymnastics of covering up Nassar's behavior, with full knowledge that he was inappropriately treating his patients. 
Kathie Klages, who resigned her post as the women's gymnastic coach at Michigan State University on Feb. 14 after close to three decades, is also being sued for allegedly having turned a blind eye to Nassar's misconduct. One plaintiff on the joint lawsuit alleged that Nassar vaginally penetrated her as treatment for lower back pain. The gymnast argued it was sexual assault. Klages, however, told the gymnast's mother that vaginal penetration was a legitimate form of treatment. 
According to the Detroit News, Klages also believes the child pornography found on Nassar's computer was planted there.
In December, the Indianapolis Star published the results of its nine-month investigation. The Star found that, in the past 20 years, at least 368 gymnasts were potentially abused while USA Gymnastics either hid the misconduct or purposefully ignored it.