'Overwatch' Season 4 Start Date and Changes: Everything we know so far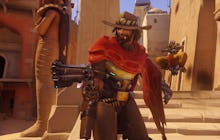 As of Tuesday, Overwatch is officially in its week-long off-season between season three and season four of competitive play, which means you only have to wait a little bit longer to get yelled at by a 12-year-old boy for not picking Reinhardt.
Overwatch's fourth competitive season will begin Tuesday, Feb. 28 at 7 p.m. Eastern, according to the Overwatch forums.
Like all Overwatch competitive seasons, the fourth season will give players special rewards, but Blizzard has yet to detail exactly what they'll be. Blizzard will also likely make some tweaks to the matchmaking and skill rating systems as it did before season three — but, again, no details on that yet.
There are only a few days left before season four kicks off, so we should know more soon.
More Overwatch news and updates
For more on Overwatch, check out the rest of what Mic has to offer. Here is a list of our predictions for what seasonal events might appear in 2017, a look at a very funny but naughty meme on the Overwatch subreddit, an interview with the creator of an awesome new Overwatch zine, the full patch notes for Overwatch version 2.03, a full explanation of the different types of health in Overwatch, our definitive ranking of every Overwatch hero, a roundup of awesome gender-bent Overwatch cosplay and a giant Overwatch FAQ for beginners.