North Carolina is now home to this mysterious billboard advertising... 1950s-era sexism?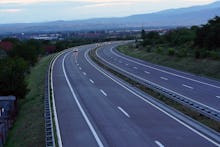 A sexist billboard is brewing controversy among locals near Kernersville, North Carolina.
The sign, located on westbound Interstate 40 Business, reads, "Real men provide. Real women appreciate it." And yes, someone actually shelled out money to plaster that 1950s-era message in stark Times New Roman for all to see.
According to Triad City Beat, the advertising space belongs to Whiteheart Outdoor Advertising. Owner Bill Whiteheart declined to name the party that paid him to use the space, which certainly evokes the question — what's the point of an advertisement whose advertiser is anonymous?
Thankfully, Whiteheart cleared that up. 
"We understand very well, I'm sure as you do, the Constitution of the United States, and it is a 'freedom of speech' type message where the parties that have paid for that advertising are conveying a heartfelt message to the public," he told Triad City Beat.
Ah, yes — nothing more heartfelt than a message reminding women of their systemic subjugation.
At least that's how local business owner Molly Grace sees it. Grace, who runs a clothing store called Kleur, has organized a demonstration to take place on Feb. 26 protesting the sign's prescribed gender roles.
She explained that demonstrators will not be protesting Whiteheart, his choice to run the ad or the existence of the ad itself. 
"We are protesting patriarchy and sexism, and that this antiquated way of thinking about women exists at all," Grace explained on the event's Facebook page.
"We are protesting the implied demand that women be silent and appreciate, regardless of whatever circumstances, their role as nonproviders."