A 'Walking Dead' T-shirt is being banned from UK stores over allegations of racism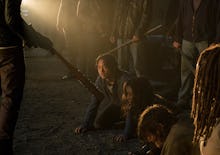 A British retailer has pulled a T-shirt based on AMC's The Walking Dead from its stores after a customer deemed the product "racist" and "fantastically offensive." The incident, first reported by the Sheffield Star, occurred in Sheffield, England, at the chain department store Primark. 
The shirt in question features a bloody, barbed wire-covered baseball bat — the signature weapon of Negan in the comics and TV series, which he calls "Lucille" — and the phrase "eeny meeny miny moe." In both the show and the comics, Negan recites the nursery rhyme while deciding which member of the main group of protagonists to kill with Lucille. However, the Primark customer noted that the nursery rhyme has a racist origin dating back to the 1900s, in which the "tiger" in "catch a tiger by the toe" was substituted with the n-word. 
"The graphic has a large American baseball bat, wrapped round with barbed wire and covered with blood," the customer said, per the Sheffield Star. "This image relates directly to the practice of assaulting black people in America." 
In response to the complaint, Primark opted to remove the T-shirt from its stores and released the following statement: 
The T-shirt in question is licensed merchandise for the U.S. television series, The Walking Dead, and the quote and image are taken directly from the show. Any offense caused by its design was wholly unintentional and Primark sincerely apologizes for this. Primark is currently removing the product from sale. 
While the intent from the customer is sincere, the allegations have drawn backlash from Walking Dead fans over Twitter — including actor Jeffrey Dean Morgan, who plays Negan on the show. A petition to return the shirt to Primark stores has also been launched. 
The customer complaint also comes nearly a year after Negan first uttered the phrase on TV. Since then, more backlash has been doled out to the show for its gruesome on-screen deaths of Abraham and Glenn at the hands of Negan, which some viewers labeled as torture porn. 
Mic has reached out to AMC for comment, and will update this story as it develops. 
Mic has ongoing coverage of The Walking Dead. You can follow our main Walking Dead hub here.