Racist man kicked off flight after asking other passengers if they had a bomb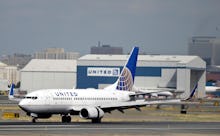 Let this be a lesson to traveling racists: Don't bring your hate speech as a carry-on.
An unidentified United Airlines passenger was kicked off the plane before takeoff on Saturday after asking other passengers if they had "a bomb" in their bag and complaining about "illegals," KHOU reported.
The man reportedly launched into a string of racist remarks after boarding the Houston-bound flight from Chicago, repeatedly asking two Pakistani passengers who were dressed in "traditional cultural attire" if they were carrying a bomb in their bag, another woman on the plane told the outlet. 
The man didn't stop there; he proceeded to direct his hateful vitriol toward others onboard, too. 
In a video recorded by the woman who spoke to KHOU, who was traveling with her Indian boyfriend, the man can be heard saying that "all the illegals and shit" need to leave the U.S. 
"The person ahead [of] us turned around and asked where my boyfriend was from; my boyfriend said it's none of your business," the woman who recorded the video told KHOU. "At that point he said, all illegals and all foreigners and need to leave the country."
KHOU reported that several passengers told the airline staff that the man's comments were making them uncomfortable. In the video, a flight attendant can be seen asking the man, and a second person with whom he was traveling, to get up and leave the plane. In the background, other passengers can be heard cheering as someone shouts, "Racists aren't welcome in America! This is not Trump's America."
Speaking to the Washington Post, United Airlines spokesperson Jonathan Guerin said the removed passengers were placed on a later flight to Houston. 
"We removed two passengers for making others feel uncomfortable on the flight and for saying some inappropriate things to customers on the flight ... Most customers appreciate a place where they feel safe and where they're not going to be attacked and we want to provide that," Guerin said.