Oscars 2017: 'La La Land,' Denzel Washington and the nominees everyone's talking about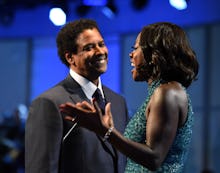 Every awards season, it's the same thing: buzz, buzz, buzz. So what's everybody talking about this year? There are plenty of think pieces and even more social media babble to feed the Oscar frenzy. Here are some of the names getting the lion's share of attention for the 89th Academy Awards:
Best picture
People won't shut up about La La Land. The Guardian calls the movie's best picture win "inevitable." It certainly has no shortage of Twitter love:
There are also plenty of people complaining that La La Land will definitely win, even if that's not what they want.
Plus, La La Land has won a bunch of awards already. It basically cleaned up at the Golden Globes, winning everything from best motion picture (musical or comedy) to best director to best screenplay — and more. That's not to mention its admirable showing at the BAFTA Awards. And, Emma Stone won in the category of outstanding performance by a female actor in a leading role at the Screen Actors Guild Awards, too. In other words, winning the Oscar for best picture would be the cherry on top of a very predictable sundae.
Directing
Everyone thinks the best director award will to go to Damien Chazelle, who directed La La Land (his so-called "dream project.") No matter how you feel about the movie, you have to admit that La La Land is part of the zeitgeist right now.
Actor in a leading role
Let's start by admitting that it's possible that Ryan Gosling will win best actor because of La La Land fever. But even golden boy has to admit he has fierce competition here. After all, he's not just up against Denzel Washington — he's up against Denzel Washington in Fences. The only competition Washington has to worry about is Casey Affleck for his performance in Manchester by the Sea. But Affleck may not get as many votes as he would've otherwise due to recent sexual harassment allegations (fingers crossed).
Actress in a leading role
The La La Land epidemic persists in this category, too. Earlier this month, Variety opened up a poll for best actress and asked the people to vote. While Casey Affleck was voted for best actor, Emma Stone garnered nearly half of the votes for best actress. In second place came Isabelle Huppert for Elle.
Actor in a supporting role
EW is rooting for Mahershala Ali in Moonlight. This beautiful movie deserves the recognition, and Ali's performance is part of what makes it so stunning.
Actress in a supporting role
Vanity Fair's calling it: Viola Davis will win an Oscar on her third nomination (finally!) It didn't happen for The Help, but it looks like a lock for Fences. That would be good not only because Davis earned it for her stellar performance, but also because La La Land's almost certain wins will make the Oscars far too white... again.
Mic has ongoing Oscars coverage. Please follow our main Oscars hub here.