Kylie and Kendall Jenner's latest blunder: Did the superstar sisters rip off Chanel?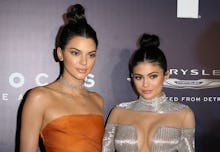 After years of appropriating cultures that aren't their own, now it looks like sisters Kendall and Kylie Jenner may have moved on to copying designs that aren't their own too. 
After Kendall Jenner posted a picture of a new shoe from her and her sister's fashion collection, Kendall + Kylie, that's at least what some people think. 
On Tuesday, Kendall tweeted a gif of a slide-on flat in neutral colors with chains across the top, linking to Nordstrom, one of the retailers that sells the sisters' collection.
Although the shoe certainly looks modern — like what Jesus would wear if he were a Lady Gaga fan — it also looks incredibly familiar to fashion fans. 
As one person quickly pointed out, the shoe looks almost exactly like a slide-on by Chanel, from the shape to the style to the chains on top. 
For a closer look, here's the Jenner sisters' shoe, called the "Shiloh slide": 
And here's the Chanel shoe: 
Eerie, isn't it? 
The most obvious differences here, honestly, is the logo hanging from the Chanel shoe, the size and quality of the chains themselves and the price tag. While Kendall and Kylie's shoe goes for $125 on their site and $124.95 on Nordstrom, Chanel's version goes for $995. 
Although we know Kendall Jenner is tight with Chanel's designer and creative director Karl Lagerfeld, we doubt he'd be super stoked about these sisters potentially ripping off his design.
And while designers copying other designers isn't new (thanks largely in part to Forever21 and Zara), this actually isn't the first time Kylie Jenner has been implicated in a dispute like this. 
In the past year, she's been accused of ripping off original artwork from another makeup artist for her Instagram and copying another makeup artist's eyeshadow palette. 
Sure, it may be an honest mistake, but with enough funds and hopefully creativity between the two of them, we'd still expect better.