'Sunday in the Park With George': Jake Gyllenhaal brings the tortured artist to Broadway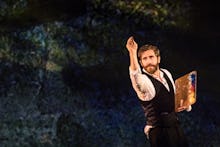 No one can accuse Jake Gyllenhaal of being a slacker. The Oscar-nominated actor is known for playing intense, perhaps tortured characters: Nightcrawler, Brokeback Mountain and Zodiac are just a few. His latest role fits into that category quite nicely: Gyllenhaal is making his Broadway musical debut in not only a work by Stephen Sondheim, but in the musical widely considered one of Sondheim's most challenging and complex, Sunday in the Park With George. The actor's performance, as the kids say (please forgive the pun), is quite on point. 
Debuting off-Broadway at Playwrights Horizons in 1983, this account of the life and love of pointillism painter Georges Seurat and his 20th-century descendant, also an artist named George, quickly moved to the Great White Way. Its first-ever Broadway revival was mounted by the Roundabout Theatre Company in 2008. Eight years later, Gyllenhaal, who wowed audiences with his vocal talents in the 2015 summer concert production of Little Shop of Horrors, stepped into the dual tortured artist role in October. Praised by both critics and audiences, this concert version of Sunday in the Park With George has been brought to Broadway for a brief run, in performances through April 23. 
Stunt casting a star in a short Broadway stint is nothing new to audiences or producers, but Gyllenhaal's performance unveils seemingly endless surprises. While one might expect a glossy, high-profile production, we receive just the opposite from the moment he purposefully walks onstage, looking distracted and bedraggled, dressed in poorly fitting clothing, with messy hair. All he cares about is his art — much to the frustration of the adoring woman who is posing for him. 
That woman is Annaleigh Ashford, a Tony-winning stage veteran who has dazzled audiences with her comedic turns in Kinky Boots, You Can't Take It With You and most recently Sylvia. But playing Dot, George's lover, model and muse, reveals an entirely new side of the the actress. She infuses her performance with aching melancholy and discernible insecurity that depicts her love for George because of his work — and despite his work — which distances him from her ever-increasingly. Sondheim's repertoire contains countless heartbreaking lines, but few are more piercing than Ashford quietly remarking, "George is very special. Maybe I'm just not special enough for him." 
In the hands of a less skilled actress, Dot and her scant backstory could easily become a trope of a discontented lover, but Ashford's warmth and generosity mold this into an asset for her character. We know nothing of this woman's family, friends or work, and very little of her education (which we see is lacking, as we watch her struggle to read a child's book). With not much more in her life except her relationship with George, why wouldn't Dot suffer from his lack of attention?
And his attention is devoted to nothing but his work. Even when simply stating the names of the colors he paints, Gyllenhaal's George is possessed with a manic intensity that borders on obsession. His detached, dismissive treatment of Dot is painful to witness as she acknowledges that she will always come second to his art — a fact he grieves in his moving performance of the musical's most well-known song, "Finishing the Hat."
Ashford and Gyllenhaal are joined by a cast of Broadway veterans, including a skillful Ruthie Ann Miles as Frieda, an amusing Ashley Park as the coquettish Celeste and Robert Sean Leonard as George's rival, the commercially successful Jules. All of the characters find their way into George's 1884 painting "A Sunday Afternoon on the Island of La Grande Jatte," which is seen in completion, projected onto the thin piece of gauze that screens the audience from the superb onstage orchestra, conducted by Chris Fenwick. Tal Yarden and Christopher Ash are responsible for the subtle projections. 
The musical's second half moves forward 100 years, as Gyllenhaal now reappears as George's great-grandson — also named George — a successful modern-day artist struggling with his own demons. His frustrations are depicted beautifully in the song "Putting It Together," which voices his contempt for having to network for beneficiaries and funding when he would rather just focus on his art. Ashford puts her comedic talents to work as the young George's grandmother, Marie, and steals the scene without ever rising from her wheelchair, never more so than during her gentle rendition of "Children and Art." 
The ensemble also transforms into a 20th-century chorus who provide Sondheim's running commentary on the modern state of art and consumerism and the inevitable tension between the two. Also apparent is Sondheim's own connection to the question of whether or not George will ever be happy with his work or his life, or if he can have one without the other. The answer, at least momentarily, arrives in the sweeping duet "Move On," through which the memory of Dot visits young George and advises him to remove himself from the pettiness of everyday life. The connection between Gyllenhaal and Ashford has been undeniable throughout the entire performance, but never more so than in these moments of lush musical and emotional harmony. 
Questions of fulfillment through art and love are timeless, and this already powerful musical is even more poignant in the shadow of proposed cuts to the National Endowments for the Arts and Humanities. When the ensemble remarks in the second act, "Artists are so crazy," the line's relevance is palpable. One hopes they will continue to be so in the years ahead.
Mic has ongoing Broadway coverage. Please visit our main Broadway hub.