Celebrities are slamming Trump for lifting federal protection for transgender students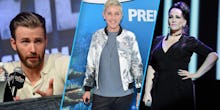 Twitter is no doubt President Donald Trump's favorite social media platform — but maybe a little less so today. 
On Wednesday, after news broke that Trump had lifted Obama's Title IX guidance on transgender students, celebrities bashed the president's decision and offered support to the transgender community. Obama's guidance interpreted Title IX, a federal law banning discrimination based on sex in public schools, to include gender identity, to ensure that transgender students have equal access to school amenities. 
Ellen DeGeneres said that having these protections in place for trans students was "about human rights" and "isn't about politics" very shortly after the news broke.  
Jazz Jennings, out trans teen and model for the world's first transgender doll, shared a video message from her and her mother discussing Trump's move. 
"I just wanted to say that, as a transgender teenager, I was deeply affected by the Trump administration's plan to revoke Obama's directive that was trans-inclusive towards kids like myself within schools," Jennings said. 
Actress Laverne Cox, who shouted out transgender teen student Gavin Grimm and his Supreme Court case at the Grammys, also shared a few stills on Instagram of her speaking about transgender access in public spaces.
Author Janet Mock shared a lengthy story on her Instagram about her own struggles with restroom access during high school and how finding support made all the difference in her own life. 
"You deserve equal access, affirmation and an education, and you must recognize that you are powerful," Mock wrote.
Several other celebrities weighed in on Trump's controversial move, as well.
A previous tweet from Trump went viral on Wednesday night. People began to retweet a campaign season message from Trump to show how he's flip-flopped on his promises to the LGBTQ community. 
"I will fight for you," Trump wrote, as he bashed Hillary Clinton. With Wednesday's news, he seems to have given up that fight rather quickly.