Transgender Bathroom Law: Which states won't let trans students choose their own restroom?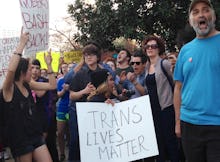 The Trump administration on Wednesday lifted former President Barack Obama's historic Title IX guidance requiring public schools to allow students to use restrooms matching their gender identity.
Secretary of Education Betsy DeVos reportedly resisted the move, but dropped her objections under pressure from President Donald Trump. Attorney General Jeff Sessions said in a statement that the "prior guidance documents did not contain sufficient legal analysis or explain how the interpretation was consistent with the language of Title IX." 
The Trump administration did not offer any replacement protections for trans students, but, according to Sessions, "Congress, state legislatures and local governments are in a position to adopt appropriate policies or laws addressing this issue."
What now for trans students?
The Obama administration's protections were already being barred by a federal court injunction, so Trump's directive may not have an immediate concrete impact, according to the New York Times.
But in rolling back the guidance, the Trump administration is explicitly turning the issue over to the states — some of which have protections in place, while others have fought to force trans students to use bathrooms and locker room facilities corresponding to the gender they were assigned at birth.
North Carolina, which passed House Bill 2 in 2016 banning anti-discrimination laws, is currently the only state in the nation to pass a bill explicitly prohibiting people from using restrooms that do not align with their assigned gender. An anti-gay bill passed last year in Mississippi allows employers and school administrators to dictate individuals' access to "intimate facilities" like bathrooms, spas and locker rooms, but does not explicitly restrict transgender people from using the public restrooms of their choice.
But several states — including Texas — have introduced similar legislation, despite HB2's deleterious impact on the state's economy and its residents. Anti-trans "bathroom bills" were also introduced this year in Minnesota, Kentucky, Missouri, South Carolina, Virginia, Alabama and Washington.  
"This isn't a 'states rights' issue, it's a civil rights issue," Human Rights Campaign president Chad Griffin said in a statement. "Children deserve protection from bullying no matter what state they live in. Period."
The reversal also may impact the upcoming Supreme Court case of Gavin Grimm, a 17-year-old Virginia transgender student who sued his school district after the school board voted to bar students from using bathrooms that didn't correspond to the gender they were assigned at birth. He won his case in federal court, but the Supreme Court issued an injunction against the decision and will hear oral arguments in the case in March. The lower court had cited the Obama administration protections in siding with Grimm.