Watch NFL QB Jameis Winston tell a class of grade school girls to "sit down … be silent"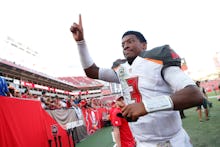 Jameis Winston, the Tampa Bay Buccaneers quarterback once accused of rape, recently stopped by a Florida grade school to reinforce some tired and sexist gender stereotypes. 
Speaking to a room full of kids Wednesday at Melrose Elementary in St. Petersburg, Winston delivered a motivational message to the boys — "stand up," you can do anything — and a distinctly discouraging message to the girls. 
"All my young boys, stand up," Winston said. "The ladies, sit down. 
"But all my boys, stand up. We strong, right? We strong. We strong, right? All my boys, tell me one time: I can do anything I put my mind to."
"Now a lot of boys aren't supposed to be soft-spoken," he goes on. "You know what I'm saying? One day y'all are going to have a very deep voice like this," Winston added, adopting a baritone. "One day, you'll have a very, very deep voice.
"But the ladies, they're supposed to be silent, polite, gentle. My men, my men [are] supposed to be strong. I want y'all to tell me what the third rule of life is: I can do anything I put my mind to. Scream it!"
Bonnie Volland, a speech pathologist at Melrose, told the Tampa Bay Times that Winston's words undermined the school's efforts to instill confidence and foster high expectations in all students.
"One of the girls turned around and looked at me and said, 'I'm strong too,'" Volland said.
Winston later attempted to walk back his statements.
"I was making an effort to interact with a young male in the audience who didn't seem to be paying attention, and I didn't want to single him out so I asked all the boys to stand up," he said, according to the Times. "During my talk, I used a poor word choice that may have overshadowed that positive message for some."
But when it comes to respecting women, Winston's track record is spotty at best. In 2015, Erica Kinsman sued Winston over an incident that allegedly occurred in 2012, when they were both students at Florida State University. According to Vice, Kinsman accused Winston of forcibly raping her while his friends filmed him. He then locked her in his bathroom and raped her again, the suit alleged. The case was settled before it went to trial.
But neither the Tallahassee police nor the university pursued the matter with any urgency. In 2014, Florida State ruled that Winston had not violated its honor code. It did, however, discipline him for absconding from a Publix supermarket with $32 worth of crab legs in 2015. For that lesser crime, Winston served a three-game suspension from the baseball team. 
Inspiring.