Nintendo Switch Virtual Console Games: Legacy titles won't be available at launch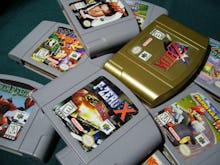 The Nintendo Switch release date of March 3 is coming up quick, but the launch will be bittersweet for classic gaming fans. While new games like Zelda: Breath of the Wild and 1-2 Switch will be available to purchase, some of the console's most anticipated titles are coming later this year.
Now it looks like there will be even fewer games to look forward to. If you were hoping for access to the Virtual Console on Nintendo Switch at launch, you're out of luck.
Nintendo Switch Virtual Console: No support for the service at launch
In the official press release (via Kotaku) Nintendo confirmed that there will be no Virtual Console support in time for the Switch's launch. For those new to Nintendo-land, the Virtual Console is different from the company's eShop. While the latter lets you buy new games like Zelda: Breath of the Wild digitally, the Virtual Console specifically sells games that appeared on older Nintendo consoles like Mario Kart 64 or really old Mega Man games that you can't beat because, damn, games back then were hard.
This alone is not devastating news considering that Nintendo will (hopefully) bring the Virtual Console to the Switch eventually. But combined with the console's meager launch lineup and it could be a real issue for early adopters. Throw in the fact that the Switch isn't backwards compatible with Wii U games and Nintendo may have a real problem on its hands.
Nintendo Switch Virtual Console release date: When can we expect legacy titles on the system?
Nintendo has yet to confirm when we can expect its treasure trove of old games to hit the Switch, but owners of the console could see more details surrounding the Nintendo Switch Virtual Console at this year's E3. Until then, Nintendo Switch owners will have to suffer through playing brand news games like Zelda: Breath of the Wild. Oh, the humanity.
March 27, 6:20 p.m. ET: This story has been updated.
Check out more Nintendo Switch news and coverage
Looking for more Nintendo Switch news? Check out our comparison photos sizing up the Switch to the Wii U GamePad (part one and part two). Then take a look at a leaked video of the Nintendo Switch menu interface and dark mode features. 
If you're just getting caught up, here's everything you need to know about the console's price, release date, preorders, battery life and our hands-on review. And if you're interested in the Nintendo Switch's games, here's info on the new Super Mario Odyssey, Legend of Zelda: Breath of the Wild, Splatoon 2, Xenoblade Chronicles 2, 1-2-Switch and the goofy boxing game Arms.