How many Oscars does Emma Stone have?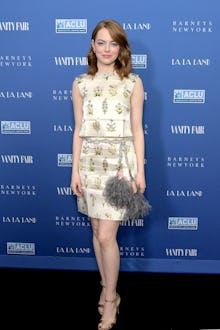 With La La Land mania and Awards season upon us, it's not surprising to see Emma Stone up for an Academy Award. She stands to win Best Actress — yes, even though she's up against the legendary Meryl Streep for her performance in Florence Foster Jenkins.
This is not the first Oscar nomination for the 28-year-old native Arizonian. Since making her stage debut at the Valley Youth Theatre in Phoenix, Arizona as a child, Stone has spent her blossoming career impressing critics and audiences alike.
How many Oscars has Emma Stone won?
If Stone wins Best Actress this year, it will be her first Academy Award. In 2015, she was nominated for Best Performance by an Actress in a Supporting Role. That was for her performance in the 2014 film, Birdman or (The Unexpected Virtue of Ignorance).
Other Emma Stone wins
Though Stone doesn't have an Oscar to her name (yet), she's won other major awards. This year, she won a Golden Globe, a BAFTA Award and an AACTA International Award for her performance in La La Land. In 2011, she won a Black Film Critics Circle award for Best Ensemble in The Help. She shared the award with Jessica Chastain, Viola Davis (who is up for three Oscars), Bryce Dallas Howard, Allison Jann and others.