Prince's music is still dominating Spotify — these are the cities that are most obsessed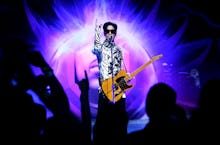 When Prince's music returned to streaming services on Grammy Sunday it was like light returned to the world after a long, cold winter. Fans flocked to his classics by the hundreds of thousands, which racked up 4.7 million streams in their first two days out, according to Nielsen. Since then, Spotify users have collectively played more than 2 million hours of the icon's music and have added his songs to nearly 7 million playlists. 
However, some areas of the United States flocked to the Purple One's sound with far more intensity than others. Thursday, Spotify published a roundup of the last week of Prince streaming data to reveal the top 20 most Prince-obsessed cities. Their post also comes with a heat map showing how rapidly Prince's music spread across speaker systems around the world.
The top cities should be easy to guess for any Prince disciple: his beloved midwestern twin cities, Minneapolis and Saint Paul, Minnesota. The third and fourth are two of the country's longtime musical powerhouses, New York and New Orleans. The most dedicated international city is London, which clocks in at No. 8 on the list.
1. Minneapolis
The streaming service also tabulated the most-listened to Prince songs in the past week. Of course, "Purple Rain" tops the list, rounded out by several of the classics off 1999 and Parade.
1. Purple Rain
All this Prince love was made possible by a recent landmark deal between Prince's estate and Universal Music Group. Before his death, Prince had his music pulled off all streaming services except Tidal, in seeming accordance with his 2010 view that "The internet's completely over," as the artist told the Daily Mirror. 
It's unfortunate the artist was not around to give his blessing to this wide release of his music. But at least the first year anniversary of his death will leave no one in any of the cities that adored him without access to his classics.