How many Oscars does Denzel Washington have?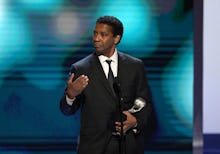 Denzel Washington has had an outstanding career in Hollywood — and it doesn't appear he's slowing down anytime soon. 
Washington is known for his blockbuster films like Remember the Titans, Safe House and American Gangster. In addition to the $2 billion he's earned at the box office over the course of his career, he's also a two-time Oscar winner.
Washington won his first Oscar in 1990 for his supporting role in Glory. Twelve years after that, he earned his second Oscar for his performance in Training Day in 2002. It was also the second time in history a black man won best actor. Sidney Poitier was the first to do so in 1964.
In addition to being a two-time Academy Award winner, Washington has been nominated four other times before this year: for his roles in Flight, The Hurricane, Malcolm X and Cry Freedom.
Washington is nominated once again this year for his role as Troy Maxson in Fences, based on the Pulitzer Prize-winning play. If Washington wins like we've predicted, it means he's garnered his second Oscar for best actor and third overall.
Washington could make history again this year by becoming the first black actor to win three Oscars. He would also join the elite club of actors who have won three or more Academy Awards. The short but noteworthy list includes Jack Nicholson, Meryl Streep, Katharine Hepburn and Daniel Day-Lewis. 
Mic has ongoing Oscars coverage. Please follow our main Oscars hub here.