How long do the Oscars last? Here's what time the Academy Awards typically ends.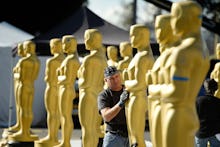 It's time to stock up on snacks and beverages (preferably caffeinated ones) for Sunday night. The Academy Awards, known for its lavish and lengthy ceremony, will air live on ABC Feb. 26 at 8:30 p.m. EST.
Hosted by late-night comedian Jimmy Kimmel, the 89th annual ceremony, which will be held at the Dolby Theatre in Hollywood, is expected to run for three hours, but if history is any indicator, it will last much longer.  
The length of the ceremony has long been the source of comedy for Hollywood insiders. In 1979, host Johnny Carson joked, it's "two hours of sparkling entertainment spread over a four-hour show." And in 2008, Jack Black and Will Ferrell helpfully provided the lyrics to the song played to rush recipients off the stage if their acceptance speeches ran long. 
It wasn't until the 1957 Oscars, hosted by Celeste Holm and Jerry Lewis, that the ceremony first ran more than three hours, setting a precedent that has remained ever since. The longest-ever ceremony took place in 2002, running four hours and 20 minutes. Five years later, in 2007, the ceremony had shortened to three hours and 50 minutes. In 2014, the Academy Awards started at 8:30 p.m. and ran for three hours and 34 minutes. 
The 2017 ceremony will likely be lengthened by its performance lineup, which includes Lin-Manuel Miranda, Sting, Justin Timberlake, John Legend and 16-year-old Auli'i Cravalho. 
Following the 2017 Golden Globes and the SAG Awards ceremonies, which were packed with political speeches and artists issuing calls to action, artistic advocacy is expected at the Oscars — which might result in even longer acceptance speeches and a later night than usual. 
Mic has ongoing Oscars coverage. Please visit our main Oscars hub here.